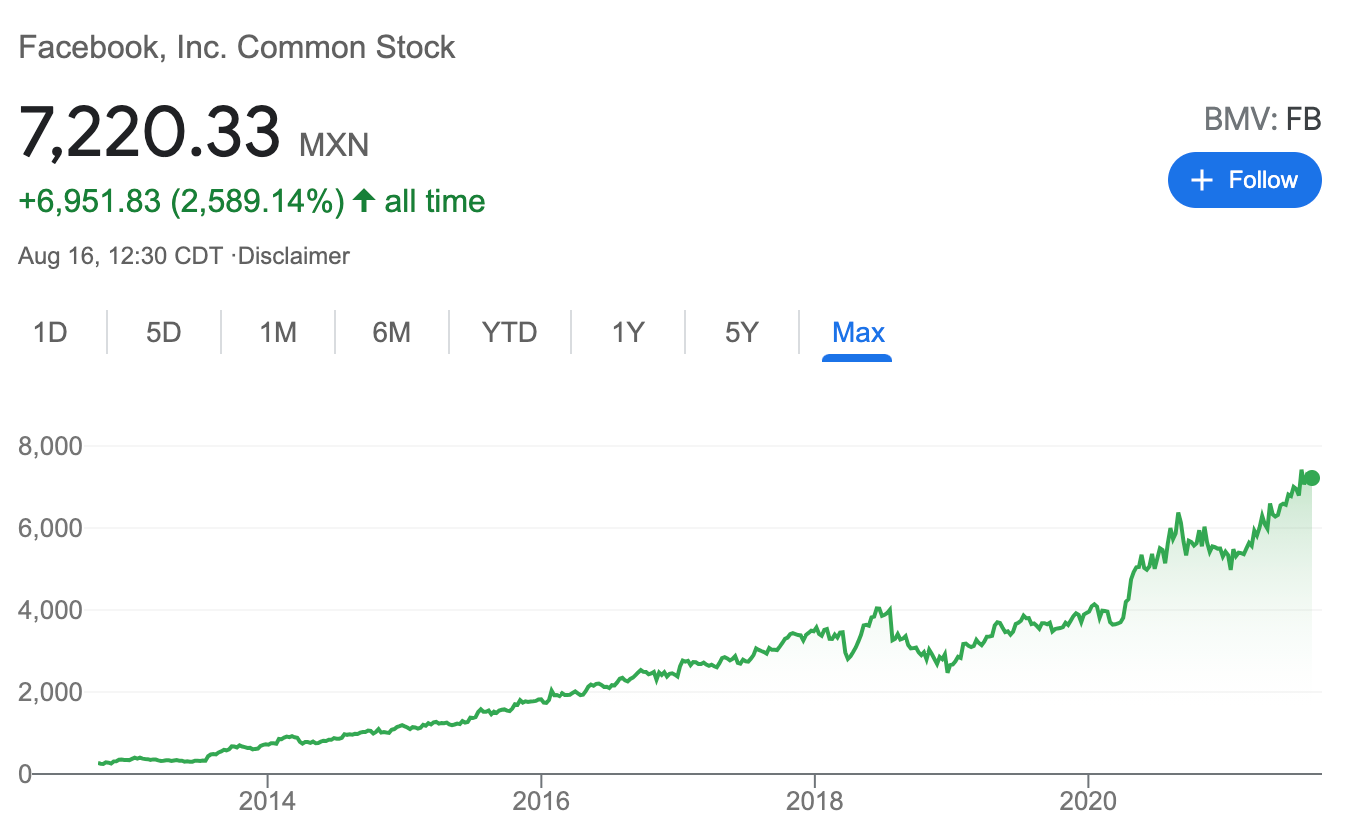 Facebook Has Overcome the 2018 Scandals to become the 6th Most Valuable Company in the USA
Facebook is the new $1 trillion company with its market cap currently sitting at 1.008 trillion dollars for the very first time.
In June 2021, Facebook stock price jolted up by 4.4%, garnering the social media titan a place among the first five U.S. companies to hit the $1 trillion milestone in market capitalization.
Why the sudden jump?
This rise has been triggered by a successful suit dismissal request by Facebook against an antitrust complaint by the US Federal Trade Commission accusing Facebook of playing monopoly in the social networking space.
Facebook has now joined Apple, Microsoft, Amazon, and Google companies which hit the one trillion dollars milestone earlier. While Microsoft is leading the pack after hitting the $2 trillion mark, Facebook is punching way above its weight after hitting the milestone in less than 20 years of existence.
Faceboook Market Capitalization and Why it Matters
Whenever someone mentions market capitalization, they are simply talking about the value of a company. This specifically applies to publicly traded companies.
When it comes to investing, information is power, and market capitalization is such kind of information.
Why?
Market capitalization (or market cap) is a determining factor of the expected risks and returns in a company's share. As an investor, understanding the market cap of a company will help you to understand the extent of the risk associated with your investment.
How high or low it is, depends on the market's perception of the company's future prospect, and therefore how much they are willing to bet on it.
Market cap also happens to be one of those figures you can get right off the bat. You can easily calculate a company's market cap by multiplying the current share price by the outstanding number of shares.
Fb market cap, having recently surpassed the $1 trillion milestone in market capitalization has placed the company in the category of large-cap stocks which are considered least risky when it comes to investing.
Facebook for Marketers
Facebook is a social network that connects people beyond physical boundaries. Anyone can use its services at no cost as long as they have an Android or an IOS gadget that can access the web.
Facebook offers users a platform where they can connect, communicate, share and discover with each other. This is what marketers and advertisers can capitalize on by engaging potential customers.
As a marketer, how well you engage with your audience on the platform will determine how much organic traffic you will gain and subsequently increase in your sales.
But you may need to expand your scope by paying Facebook to gain wider exposure. Even though the platform has other sources of income, it's through marketing and advertisement that Facebook earns most of its revenue.
A Sneak Peek into the Future Value of Facebook
It hasn't always been moonlight and roses for this social media titan.
After its initial public offer back in 2012, all was well until 2018 when a series of scandals befell the social network platform. First came the data leaks, then the fake news, and finally the Donald Trump campaign scandal that affected 87 Facebook users. Well, they all contributed to bringing the social giant down to its knees. Facebook suffered a colossal drop in its revenues in the second quarter of the year.
Now, the Facebook share price has been predicted to hit $900 by the year 2025.
If you are wondering whether you should put your eggs in this basket, the Facebook stock will give you the stability you need for a long-term investment. Keep a keen eye on the Fb market cap and make strategic investment decisions.