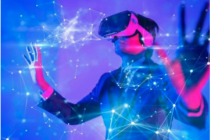 One of the first examples of widespread metaverse commerce was Nikeland. The Roblox-made virtual world received 7 million visits in its first two months. To enable a gaming experience that was Nike-branded and, critically, allowed users to purchase virtual products from Nike directly, it leaned on the expertise of Nike's recently acquired metaverse firm, RTKFT.
Nike's digital sales now account for 26% of its overall Nike brand sales, largely because of those metaverse experiences. According to Roblox, Nikeland has had over 21 million visitors, and around 118,000 gamers have marked it as a favorite.
But initially, there were concerns regarding how long a metaverse execution like Nikeland would be successful considering how young the metaverse is as a marketing tool. Gamers are continuously looking for new experiences, and in Nikeland, Roblox's design makes it simple to find them.
The viability of the metaverse as a marketing tool
 Winnie Burke, director of partnerships for fashion and beauty at Roblox, explains that new product introductions are necessary for a metaverse experience to be viable, much like in actual retail.  "Evergreen experiences on Roblox, like Gucci Town, Vans World, and Nikeland, keep players coming back because they've established interesting social spaces with regular content upgrades where fans can learn about new items in authentic and interactive ways," she says.
Tommy Hilfiger is the newest fashion brand to enter the metaverse. It's one of the most interesting instances of the fashion industry tackling the metaverse we've seen. Its Tommy Play is regularly updated, so even frequent visitors can always find something new to explore or try, 
The fundamental principles of retail and gaming are intertwined in the desire to create new goods and experiences. Retail, especially in the fashion and luxury industries, operates on the idea of seasonal updates. Still, persistent gaming universes like Final Fantasy XIV and Rocket League regularly release new locales and game modes.
According to Together Labs' chief executive, Daren Tsui, a successful metaverse implementation needs three essential qualities. It needs to have 
presence social presence

 persistence or allow continuity so that when users come back, there is some sort of continuity, and they do not have to start all over

 Be shareable to allow several people to interact in the metaverse
What is metaverse commerce?
Nikeland has been adopting the release-and-refresh model used in video games in addition to releasing new clothing items. For example, LeBron James got invited to Nikeland during NBA All-Star Week.  Participants got  a chance to unlock virtual goods in exchange for their physical gameplay.
The intersection of these two disciplines represents metaverse commerce. But the finest metaverse experiences will be those that meet audiences' expectations for both.
In support of its most recent Gucci Flora perfume campaign, Gucci, for instance, recently updated the aesthetics and experiences of its Gucci Town experience, adding new challenges and enabling fans to engage with an avatar of brand ambassador Miley Cyrus.
Developing authentic relationships in the metaverse
These "branded worlds," according to Burke, "are an extension of existing social channels, allowing fans to connect with brands, creators, and community members in a fun, dynamic, and ever-changing fashion keeping them coming back for more and to enjoy these experiences with their oved ones."
Gucci Town and Nikeland have dominated most media attention on the metaverse e-commerce experiences. Here users dress their avatars in purchased items, an idea strange at least to people who aren't gamers. Burke argues that many brands are now forging connections with consumers they might not have otherwise encountered except through their sponsored experiences on metaverse platforms.
"For many brands, cultivating ties with generation Z can have an impact on their real-world purchasing decisions," she says. Our study reveals the first signs of how lifestyle interactions with businesses on the platform may lead to future encounters with the brand in the real world. "For instance, when we performed a virtual focus group with visitors to the Alo Sanctuary experience, nearly half of them indicated that they would be "likely" to buy from Alo the following time they need sports clothes."
Bottomline
The metaverse has used the histories of both gaming and retail to develop a workable new e-commerce route. To ensure its continued success, marketers must make long-term investments in their metaverse experiences to keep consumers coming back as frequently as they would to a physical store.