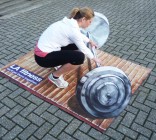 Half of Americans suffer from Gym anxiety. To raise awareness of the "gymtimidation" many people experience when working out for the first time, The Gym Group has launched the "Gym Face" campaign.
According to the brand's positioning statement, research has shown that gymtimidation—the sense of insecurity and self-consciousness in the gym—is one of the significant obstacles to fitness. To combat this, it has developed a unique and entertaining musical concept with motivating music that everyone can exercise to.
The First-time Gym-goer's "gym face" 
The campaign's focal point is the song "Gym Face." Leland Music recorded it, and Lucky Generals wrote the lyrics. On September 21, the song became live across all music streaming services, including Spotify and Apple Music.
Stand-up comedian Will Hislop performed the song, in which he sings to a timid first-time gym goer about the types of gym faces people have, such as sweaty and red ones. The main character also has a "gym face" by the end of the song.
The Gym Face Campaign and its relevance
The music video and other promotional materials will reach the targeted audience through owned channels, radio, digital out-of-home (DOOH), broadcast video on demand (BVOD), and social media. Biscuit Filmworks created the shorts, while team Jocelyn De Boer and Dawn Luebbe, which was previously nominated for a Spirit Award in their first UK shoot for a British advertising brand, directed them.
According to Emily Kortlang, group brand and marketing director at The Gym Group, intimidation is a very real problem, especially for women. One in three people who don't go to the gym says they would feel uncomfortable there. We're determined to reassure the populace that we comprehend their concerns and that our entire group is behind them as they embark on their fitness journey.
Lucky Generals — the creative agency behind the campaign
Being a mass market,  The Gym Group wanted the campaign to convey its belief that low cost does not have to equal inferior quality. For that, it required a creative firm willing to question established conventions. The company, therefore, settled for Lucky Generals as its ideal partner for us and is delighted with Gym Face's firepower.
According to Danny Hunt, creative director at Lucky Generals, the big idea in this campaign is that "We're with you."  This idea demonstrates to people that The Gym Group will do everything it takes to support them on their fitness journey, making gym sessions a little less daunting. Honesty, insight, and saying things with a smile is the approach of choice for Lucky General in this campaign to help stand out in a category that can occasionally be chilly and frightening.