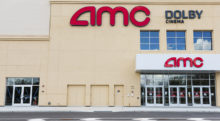 The Nicole Kidman AMC theatre ad has already inspired a follow-up. The initial commercial debuted last year, developed a cult following and went viral. The news was made when theatre attendance was beginning to decline.
You can still picture Kidman walking into an empty cinema and sitting down. Before she can say her instantly famous phrase, "Somehow, heartbreak seems beautiful in a setting like this," the lights go out. All that is left is the movie projector's light behind her.
The original commercial debuted almost a year ago, and its author, Billy Ray, claims to have already begun working on a sequel.
About a month ago, the chairman of AMC texted me to ask if I would write the following one.
When will the new theatre ad air?
It's unknown when the new ad will air, but it was anticipated after AMC revealed last month that it had extended Kidman's contract by another year.
"All I can say about that," Ray continued, "is that we are not foolish enough to attempt to redo what we have already accomplished." The author stated, "So it's a very, very different approach with reference to the one we've already done."
Particularly, the "heartbreak" line from the original advertising gained cult status and spread like wildfire online. For instance, several shirts with the quote are available for purchase on Etsy.
Kidman's View
In an interview with The Playlist in January, Kidman stated that she was shocked by how well-liked it had become.
"It's a wonderful phrase, right?" Kidman said. "When you are witnessing something else that breaks your heart while feeling lonely at a movie theater, you understand that you are not alone. People shouldn't disregard that. The theater is essential."
The announcement for the second advertisement came when theatre attendance began to decline after a prosperous summer.