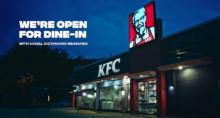 The Covid pandemic left restaurants struggling with increased ingredient prices and a shortage of employees. But there's another problem: Generation Z is least interested in sampling restaurant menus compared to other generations. To deal with this, KFC is rolling out new chicken nuggets at restaurants in Charlotte, North Carolina, to get Gen Z's and millennial customers' attention. 
The KFC chicken nuggets come in either eight, twelve, or thirty-six pieces and are prepared with KFC's signature herbs and spices. Although KFC already offers a variety of chicken on its menu, the company feels these particular chicken nuggets will catch the attention of the younger consumers who fancy boneless chicken.
Why Generation Z is not excited about dining out
Gen Z consumers have held on to the habits they picked during the pandemic. However, they are also dealing with more money constraints than any other generation at that age, affecting the frequency with which they would otherwise visit these food joints. 
Here are reasons why zoomers are not excited about dining out:
The ongoing

inflation

and increased gas prices are keeping people away from restaurants. 

More spending constraints where younger customers have to spend on technology equipment, clothes, and other trendy items.

Younger consumers grew up with part of their budget already committed to expenses such as gaming and streaming services.

The post-pandemic work-at-home concept has meant fewer daily commutes for young people and, therefore, less demand for restaurant meals.

Young consumers gained cooking skills during the pandemic and are still holding on to them.
These challenges look short-term since they result from temporary habits picked during the pandemic and current macroeconomic factors. The restaurant industry is hopeful that they will eventually fade away. But some restaurants feel that they need to adjust and change how they do things to recover their pre-pandemic traffic rates.
Restaurants are experimenting with different things like loyalty programs and partnering with young influencers to try and get them excited about eating out. They are also considering lowering prices in the future.
Why KFC needs to catch the attention of Gen Z 
Generation Z includes young people between the age of 18 to 24, a critical demographic for the food industry.  
KFC is looking for a way to grab their loyalty early by tapping into their eating habits and capacity. 
Robert Byrne, the director of consumer and industry insights at Techmonic, said, "The earlier you can engage with a consumer, the more potential you have of building loyalty and building frequency over the course of more years." He claims it's difficult to develop customer loyalty once the Gen Z customer grows past that stage. 
The fact that Gen Z is more reserved when it comes to dining out compared to other generations when they were at that age is more reason why restaurants must go out of their way to grab their attention.
KFC is creating a buzz through Generation Z for brand awareness
With the current high competition in the food industry, brands are continuously testing different items, improving existing ones, and hoping to create a buzz while at it. Last year saw  Popeyes launch its own nuggets while McDonald's launched the return of its chicken nuggets. 
KFC also added a new fried chicken nugget that ironically contained no chicken. The Beyond Fried Chicken, to its menu, though for a limited period. KFC's target for this new nugget was customers looking to eat less animal protein but still wanted to enjoy the taste of chicken. According to KFC's parent company YUM's CEO, David Gibbs, this launch helped increase the brand's awareness and doubled its relevance.
According to KFC's parent company YUM's CEO, David Gibbs, this launch helped
This new nugget came with a string of other advantages, including:
It's a perfect snack for today's hybrid work environment. 

It serves as a reminder to KFC customers on their go-to spot for food on the go.
KFC's other Efforts to appeal to Gen Z
In addition to the chicken nuggets, KFC is trying to adapt to current changes by redesigning its branches and making them more modern and efficient. The restaurant has redesigned six Next-Gen restaurants whose model design includes drive-thrus and inline restaurants.
Final Thoughts
The restaurant industry is desperate to recapture the attention of Generation Z and recover the traffic lost during the Covid pandemic. Among other strategies that KFZ has been using lately is the rolling out of new chicken nuggets to its menu (for a limited period) to capture this elusive generation. 
The restaurant believes in the purchasing power of this demographic. It's,  therefore, trying to adapt to the market dynamics while limiting competition. KFC now awaits the results of this change that has resulted in redesigning and modifying its menu.