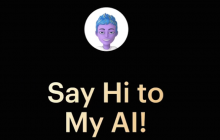 Snap has revealed that it will be introducing a brand-new chatbot to the Snapchat platform dubbed My AI. According to a business blog post from last year, the function is now accessible in Snapchat Plus. a subscription-based service within Snapchat that costs $3.99 per month and gives users access to special features on both Android and iPhone.
My AI has limited responses compared to ChatGPT
My AI makes use of GPT-3, a language model created by Microsoft's startup OpenAI and included in the popular chatbot ChatGPT. Snap claims that My AI can produce content such as gift suggestions and custom haikus for which ChatGPT has become well-known. But, Snap's new AI bot offers a limited variety of responses compared to ChatGPT in a bid to decrease the likelihood that it would say something insulting or deceptive.
Snap has emphasized that there was only so much the company could do to avoid such a scenario and that users should be aware of such.
The business also announced that it will record and probably analyze all text from consumers' chats with My AI for future product upgrades. The company has advised users not to disclose secrets with My AI and not to rely on it for guidance.
The limitations that Snap has established around its new conversation function powered by AI may be inspired by Snapchat's primarily young user base. Users aged 13 to 24 make up more than half of all Snapchat users.
Other Tech companies are cashing in on ChatGPT
Other well-known tech companies are also attempting to capitalize on the success of ChatGPT and "generative AI".
Bing and Edge, respectively, have recently updated their software and are integrated with OpenAI's GPT technology. Google, which according to Statista presently holds 85% of the search industry, was also inspired by the news to introduce Bard, an AI-powered chatbot.
Less than a month after Bard and the new Bing went live, both Google and Microsoft found themselves in hot water since both platforms gave information that was factually incorrect or otherwise varied from the system's training set.
My AI introduces a customizable avatar function
While the user interfaces for ChatGPT and the AI-powered Bing focus on a basic chatbox, Snap's new AI component adds another aspect, customizable avatars, which is also its trademark. With My AI, paying Snapchat users can give the automated chatbot a digital face that looks just like the ones they create for themselves on the app, giving the idea that it's simply another Snapchat+ friend.