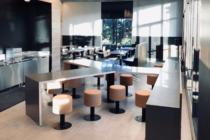 Chipotle has now embraced the Fajita Quesadilla craze proving that TikTok can be used as a social listening tool.  Rather than just using the platform for advertising to reach Gen Z and millennial consumers, Tiktok can also help guide business decisions.
On TikTok, Frost's review of a Beef Quesadilla with Fajita Veggies was merged with Lee's review of the dish with a homemade dressing made from the company's Chipotle-Honey Vinaigrette and sour cream. The viral clip has been viewed more than 30 million times, received 3 million likes, and attracted tens of thousands of shares.
Fajita Quesadilla craze has been a challenge to Chipotle
Nevertheless, the delicacy was not accessible through the chain's online ordering platforms, causing a challenge for the staff responsible for satisfying consumer demand for the dish.  Chipotle is capitalizing on the meal's viral appeal by formally adding it to its menu while maintaining efficient operations and contented staff.
According to CMO Chris Brandt, TikTok has transformed how we interact with Gen Z and demonstrated its ability to spot business opportunities. With the introduction of the Fajita Quesadilla, Chipotle is honoring Keith, Alexis, and all of its fans who yearned for the modification while giving its staff members a top priority.
 The addition of the "Keithadilla" and "Fajita Quesadilla Hack", which pay tribute to the TikTok creators, capitalizes on the buzz of celebrity menu additions that McDonald's and its Famous Orders platform started. Chipotle has imitated its competitor Taco Bell's strategy by adding a variety of brand ambassador and influencer dishes to its menu as part of earlier promotions.
Brands face challenges when they don't embrace their viral products 
Brands who have not been able to swiftly meet demand or incorporate such viral hacks into their processes have had problems as a result of items going viral on digital channels. In 2017, the TV comedy "Rick and Morty"  caused problems for McDonald's, and more recently, Waffle House staff have resisted orders for a hack that went viral on TikTok.
As part of its marketing initiatives, Chipotle has long embraced cutting-edge technologies on social media and mobile platforms, such as messaging, Roblox, BeReal, Cash App, and others.