Digital advertising refers to a company's type of communication to promote its brands, products, and services on various platforms and digital channels. Digital advertising is the process of publishing advertising materials on online platforms such as social media, search engines, websites, and other programs that anyone can access. In digital advertising, advertising material is delivered to a target audience via digital platforms such as social media and email, search engines, mobile apps, affiliate programs, and websites.
Digital advertising is designed to complement your overall organic marketing efforts as it can boost sales, promote brand awareness and connect with your audience in the fastest way. Digital advertising includes email, ad ads, app store, mobile advertising, Real Experience Marketing (REM), and paid social ads. To raise awareness and buy, you can use digital media advertising, online ads, and channels such as Google Plus to boost revenue.
Internet marketing or advertising is digital marketing on mobile devices, subway platforms, video games, and smartphone apps. Digital marketing is rising, including search results ads, email ads, and advertised tweets that include marketing and customer feedback as a reciprocal interaction between business and customers. Digital marketing catapulted companies like Apple to success, creating enthusiastic fans, "Get Your Customers Advice" companies, and reaching a $1 trillion valuation in 2018.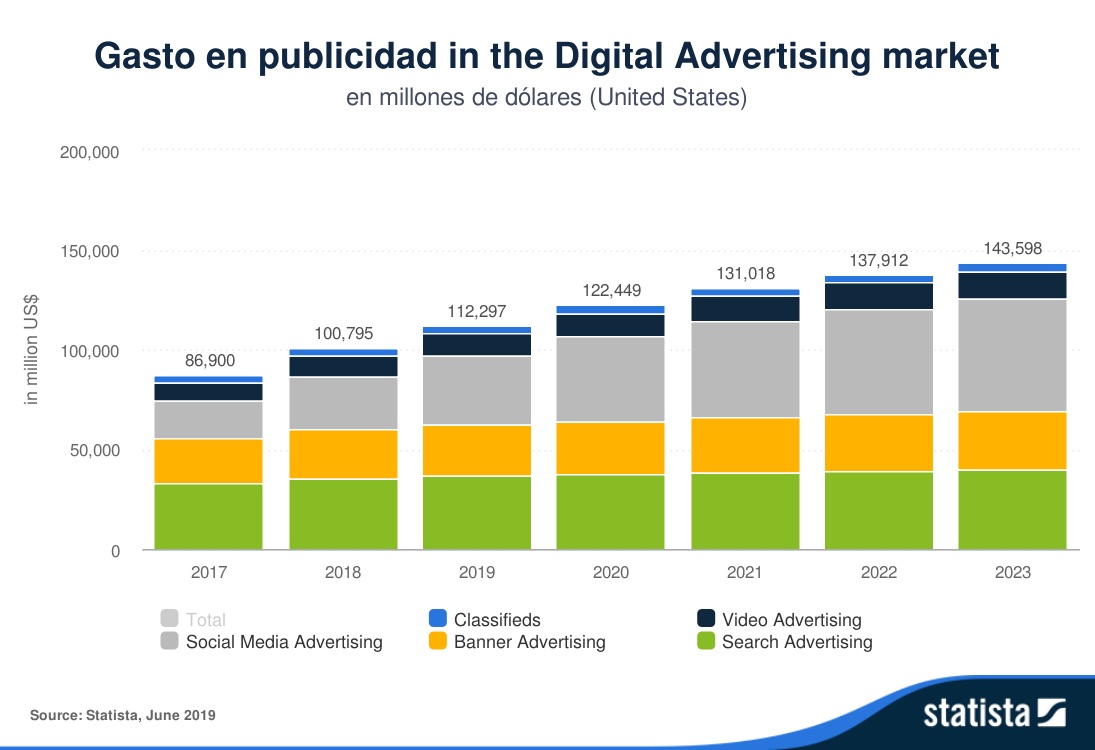 Digital advertising in 2020
The worldwide digital advertising revenue will reach US$458.2 billion in 2021. By 2025, revenue will grow to US$601.3 billion, according to the reports from the Statista Digital Market Outlook. Comparing the three major Digital Advertising markets – the U.S., China, and Europe – the U.S. was the biggest market in 2021 with US$186.3 billion. Thus, the U.S. accounts for more than one-third of the world's Digital Advertising spending, leaving China and especially Europe far behind with shares of respectively only 21.1% and 19.6%. When considering growth rates, the U.S. leads the race with a CAGR of 11.9% by 2025 among the three major regions, closely followed by China with 11.8% and the European market with 10.3%.
Due to a lasting trend towards mobile apps, the future development of Digital Advertising will continuously be shaped by a shift from desktop to mobile. While the share of global mobile revenues was 48.3% in 2021, the expected share in 2025 will be 61.6%. The most affected segment will be Video Advertising. Here, a shift is scheduled of around 12.9% leading to a mobile share of 78.8%.
Digital advertising key for modern advertisers
In the parlance of digital marketing, an advertiser is designated as a source member and a targeted advertisement as a recipient. Social media advertisements platforms are a digital marketing campaign that is segmented and focuses on a specific audience according to the purchasing personality of a company. For example, you can use social media targeting features to display social media ads for particular target groups based on variables such as age, gender, location, interests, and network behavior.
Published digital ads on social media platforms offer you a direct and measurable way to direct interested people to your website. For example, newsfeed ads also called sponsored stories, boost posts and content by promoting sites, fan sites, apps, and products. Ad advertising is when your ads appear on affiliated sites, including YouTube.
Many companies promote their products by posting regular updates or special offers on their social media profiles. Video, interactive quizzes, and sponsored posts are all part of social media marketing. Placed in the media mix, many successful companies and most medium-sized marketers have found it effective to become digital. Ads aim to maintain the performance data that digital ads provide, as we have already mentioned.
In 2019, eMarketer predicted that U.S. advertisers will spend 54.2% of their ad budget on digital ads and that the figure will reach 66.8% by 2023. Digital advertising today takes many forms and is used through various channels, including social media, video streaming sites such as YouTube, pay-per-click (PPC) advertisements that you see at the top of the search results, and much more. Mobile Advertising takes the form of static rich media advertisements, SMS (short message service) and MMS (multimedia message service) ads, mobile search ads advertising mobile websites, mobile application and game ads such as interstitial ads, AdverGame applications, and sponsorship.
Examples of advertising platforms
Some examples of advertising platforms that offer CPL are Google Ads and Facebook. You can also use digital pay-per-click advertising (PPC) to support your other online marketing strategies. PPC accounted for $10.1 billion in advertising revenue in 2017, with more than 7 million advertisers advertising.
Digital advertising is one of the most commonly used channels for marketers because it involves placing display and banner advertising on different platforms with a pay-per-click. As a result, many companies use digital marketing strategies in coordination with online advertising like this. While online advertising includes buying advertising space for campaign marketing, prioritizing organic growth via existing channels such as email newsletters, blog content, social media campaigns, search engine marketing, and others, you can also integrate digital ads into these channels.
Digital marketing involves managing various forms of online business presence such as websites, social media accounts, and mobile apps. HubSpot, one of the leading Mar-Tech companies in the United States, notes that various assets and tactics are part of digital marketing from the outset of a corporate website or brand, including email marketing, blog posts, infographics, logo tools, and white papers that are helpful for online promotions. Digital marketing, also known as online marketing, includes email and social media and web-based advertising, text, multimedia, and paging marketing channels.
As a marketer, it is essential to use the digital world and online advertising to build a brand, offer a great customer experience and attract more potential customers with more digital strategies. Digital ads should be personalized to maximize the relevance of your target customers. Digital marketing integrates the user experience of your target customers into the website and guides them through your website and your business.
This strategy gives marketers the ability to run ads and determine how much they should spend, how much they earn and how much web traffic the ads bring to them, and even how much return on investment they should expect. Because of the nature of digital ads, you can track every step your customers take. The data from an advertising campaign provides digital marketing strategies such as buyer personas, campaign goals, landing pages, lead magnets, and core product conversion funnels.
Brands must take the time to inform themselves about their competitors and the audience they want to target with their advertising and marketing materials before launching any digital campaign. In addition, a digital marketing strategy must consider the corporate objectives, the resources available to achieve these objectives, and, of course, the purchasing personality of your company.