Perhaps you haven't thought about it, but Coke is often associated with happiness. In fact, the words Coca-Cola, in Mandarin, means "Delicious Happiness." So, when you view the company's "Happiness Machine" video on YouTube, you will also be convinced! Just think about that when evaluating the Coca-Cola's Marketing Strategy.
We may never know if this is the secret to its success, but starting in its first year of operation in 1886 in Atlanta, Georgia, creator John Pemberton sold an average just of nine servings of Coca-Cola every day. Today, 133 years later, that daily number has increased to 1.9 billion servings of the company's products.
Coca-Cola's Marketing Strategy
As the world's third most valuable brand, Coca-Cola is also one of the most successful. Its products are available in every country, and through the gray market, this also includes Cuba and North Korea.
Having a marketing strategy uniquely designed for the company has given it a huge boost at increasing global brand recognition.
Like other companies, Coca-Cola bases its marketing strategy on the well-known marketing mix of the "4Ps": Product, Price, Promotion, and Place.
However, due to the uniqueness of the company's brand, we've mixed things up a bit by including other, more subtle reasons behind the company's success and the uniqueness of the brand.
This article highlights Coca-Cola's marketing strategies that you could come across every day wherever you might be. You may be in the grocery store, at the ball game, watching TV, having a cookout at friends, or simply enjoying a quiet dinner at your favorite restaurant.
Product Strategy
It might come as a surprise for you to learn that the following range of products are offered globally by the company: Coca-Cola, Sprite, Fanta, Diet Coke, Coca-Cola Zero, Coca-Cola Life, Coca-Cola Light, Minute Maid, Dasani, Ciel, Powerade, Simply Orange, Fresca, Glaceau Vitaminwater, Del Valle, Glaceau Smartwater, Mello Yello, Fuze, Fuze Tea, Honest Tea, Osewalla, and Powerade Zero.
The Classic Bottle
Coca-Cola's unique bottle concept originated out of the company's defensive marketing strategy. In 1915, when the brand was losing market share to hundreds of competitors, a national contest for a new bottle design was launched. It would signal to consumers that Coke was a premium product not to be confused with any other brown cola in a similar clear glass bottle.
The contest winner used an illustration of a cocoa pod with its strange and appealing shape. Coca-Cola commissioned the bottle design and began promoting the shape as well as the logo. Over time, as plastic replaced glass as the standard means of drinking Coke around the world, the company continued promoting the image of the Coke bottle as an icon.
Coca-Cola Logo and Font
In 1923, Coca-Cola decided to start writing its logo in the Spencerian script used by accountants at the time. The feeling was that this would clearly differentiate the brand from the competition. As with the recipe, the core logo has remained untouched even though the packaging could adjust to the times.
The way Coca-Cola has used its logo in its marketing strategy resulted in it being imprinted in the minds of people around the world for more than 100 years.
Price Strategy
Between 1886 to 1959 (73 years), Coca-Cola had a fixed price, and it only cost five cents. However, challenges from competitors like Pepsi have led Coca-Cola to bring flexibility into its product pricing. If it didn't, consumers would start to doubt the quality of the product should its price drop significantly, or its value if the price unreasonably increased.
Simplicity
Coca-Cola has never deviated from its timeless and basic ideals. Even though it has grown into a massive global industry with many products, the company has stayed on track.
Across many decades and multitudes of marketing campaigns, Coca-Cola's marketing strategy has remained consistent in communicating one strong and compelling message: pleasure. Enduring, simple slogans such as "Enjoy," "You Can't Beat the Feeling," and "Happiness" simply never go out of style and are easily translated across the globe.
Personalization
The Share a Coke campaign, like that in 2018, has now successfully been expanded to over fifty countries. With each country, the message is customized to the local culture and language. Even the most popular names of people living in each region are printed on cans and bottles in place of the company's name. This marketing campaign is a perfect example of effectively applying a localized positioning strategy to a global market.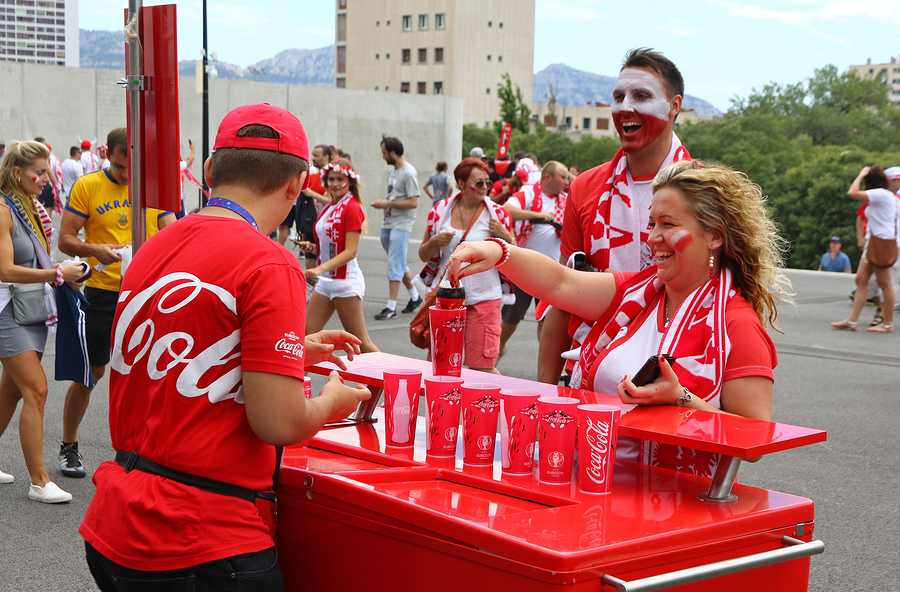 Socialization
Social Media: The online communication channels that represent social media have become one of the fastest-growing tools for marketing. As we might expect, Coca-Cola takes advantage of this and has created profiles on all the reputable social media platforms.
Facebook – Coca-Cola's marketing strategy is quite unusual and unique, especially considering how well-recognized the brand it is. It's relatively easy for the company to attract dozens of fans without much effort or expenditure. Nevertheless, engaging and interacting with consumers is still something that it does, even though the company in the United States might go weeks without posting any updates on the platform.
Post engagement is surprising good. With Coca-Cola not owning any stores to which to drive customers, the aim is to expand brand recognition, awareness for future ad campaigns, and to increase authority.
Twitter – Coca-Cola is believed to be one of the most active brands on this platform.  The company has more than three million followers and has sent out more than 270 thousand tweets. Coca-Cola uses Twitter in unique ways. For example, the company diligently replies to @mentions in fan tweets.
Pinterest – Coca-Cola uses Pinterest in an interesting way where there isn't a focus on marketing messages. The company's strategy is to gather together images related to the brand. The images shown weren't necessarily posted for advertising purposes, but rather for entertainment and joy. With this strategy, the company encourages people to interact with the brand and to get featured on the brand's official social profile.
Snapchat – Starting in 2015,  Coke has seen a marked upswing in engagement on Snapchat. Its trick has been to tailor its ad content to the messaging app as well as the demographics of its users.
Sponsorship
Coca-Cola's marketing strategy is to be one of the most recognized sponsor brands. Its long sponsorship history includes some significant players.
American Idol – As the sponsor of one of the most original and famous TV shows, American Idol, Coca-Cola officially sponsored the show for thirteen years.
The Olympic Games – Beginning in 1928 with the Amsterdam Olympic Games, Coca-Cola is now celebrating 90+ years of partnership with the Olympics.  To demonstrate the company's commitment to Olympic sponsorship, for the London Olympic Games of 2012, Coca-Cola Great Britain created a special bottle featuring a picture of a rose.
NASCAR – Coca-Cola has been a long-standing sponsor of the National Association of Stock Car Auto (NASCAR).
Global Outreach
The Coca-Cola Company is well known as the world's largest beverage company. The company's operational reach encompasses more than 200 countries worldwide across five operating regions: Asia Pacific, Europe, Africa, Middle East, Latin America, and North America.
Whenever there is a major natural disaster, the motto is: "Coca-Cola people are ready." As Hurricane Dorian, a slow-moving storm started decimating communities in the northwestern West Indies, teams from the company as well as a network of bottling partners mobilized to support relief and recovery efforts. Unless highlighted by the media, these initiatives may go unnoticed but not by the people on the ground who are directly affected.
Experience
A significant aspect of Coca-Cola's marketing success is the way it emphasizes brand over product. It doesn't sell a drink in a bottle. As highlighted earlier with the "Happiness Machine" video, the company strives to sell "happiness" in a bottle.
There's no better example of this than the 1971 television ad featuring the infectious "I'd Like to Buy the World a Coke." Considered by many fans at the time to be "the world's most famous ad."
Add to this its 2014 packaging campaign where the company individualized 2 million bottle designs according to Adweek. The resulting product conveys to "Diet Coke lovers that they are extraordinary by creating unique one-of-a-kind extraordinary bottles," said Alon Zamir, vice president of marketing for Coca-Cola Israel.
Conclusion
What can we learn from Coca-Cola's marketing strategy is clearly depicted it its "Happiness Machine" video. To build a successful global brand: make human connections, remain innovative, and at the same time, stay true to simple principles.
These are all Coca-Cola's global marketing techniques that have contributed to the company's place as an industry leader, even after 125 years.