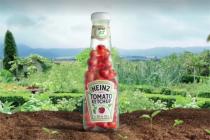 Halloween is celebrated on the 31st of October every year and is famous for pranks. People have long used Ketchup as fake blood for these pranks. Last year, Heinz, the king of Ketchup, embraced the game and launched Tomato Blood Ketchup. Blood ketchup is just the regular Heinz Ketchup with a Halloween theme. 
Heinz is bringing back its limited-edition Tomato Blood Ketchup bottle to commemorate Halloween this year.
The Halloween-themed tomato blood ketchup
The traditional Heinz Ketchup packaging now reflects the seasonal product and reads "Tomato Blood" in large letters with the words "Tomato Ketchup" underneath. Blood graphics have been used in place of the bottle's customary tomato image, and the text "57 Varieties" has been changed to "57 Blood Types.
E.J. Marcus, a real-life celebrity with nearly 400,000 followers on TikTok, portrays Heinz's vampire known as "Toby the Vegetarian Vampire."  Toby is a former vampire who now lives a tranquil, vegetarian existence and enjoys Heinz ketchup instead of the usual vampire lifestyle. On Heinz's Instagram and TikTok accounts, users can keep up with Toby's exploits and enthusiasm for Tomato Blood throughout October.
Toby, the 280-year-old vegetarian vampire, is Heinz's spokesperson. He endorsed the bottle in a public service announcement (PSA) to save human necks.  In a statement, he said, "Being a vegetarian vampire and exclusively eating Heinz Tomato Blood comes with many misunderstandings. I'm hoping that by making a PSA, vampires worldwide will realize that people are more than just a source of food and will give friendship a shot while savoring a wonderful substitute.
Building Halloween memories with blood  ketchup
Alyssa Cicero, the Communication Brand Manager at Heinz, added, "Whether dripping on a dinner plate or utilized as a spooky accessory, Heinz has been helping people build memories for years, and this Halloween is no exception. Even vampires will like the limited-edition Heinz Tomato Blood Ketchup bottle, which has the recognizable and beloved ketchup.
The new packaging is available in stores across the country. Additionally, Toby fans can visit specific Six Flags sites in October to participate in the Six Flags Fright Fest and taste the Totally Loaded "Bloody" Nacho Fries with Heinz Tomato Blood.
Customers can catch the Toby-starring vegetarian vampire movie on the company's YouTube page and during the AMC Premiere of "Interview with a Vampire." Additionally, it will take over well-known Fandom channels and debut a unique activation on Twitch with a vampire theme.