No matter where you go in the world, you will find people using social media. Understanding the top Social Media Statistics For 2021 Marketers is crucial for a successful business and career.
There is no denying that it's powerful, it's unavoidable, and, more importantly, it is here to stay. 
Its popularity began gaining momentum in 2004. Today, statistics show that more than 58.11% of the world's population uses social media. 
Going by the latest trends, it is predicted that more than 4.41 billion individuals will be using social media by the end of 2025. The rise in popularity can be attributed to various things—for example, more people getting connected to the internet, ease of use, etc. 
Regardless of why you use social media, getting insights on the latest statistics can help you achieve your set marketing goals. For example, you can get a clue of the best marketing strategies for your brand.
The global Social Media Advertising market size was about US$97.7 billion in 2020 and accounted for 27.5% of the total Digital Advertising market. With a Compound Annual Growth Rate / average growth rate per year (CAGR)  According to Statista Digital Market Outlook 2020.
of impressive 7.2% by 2025, Social Media Advertising will remain the second-biggest segment within Digital Advertising with revenues of US$138.4 billion.
The U.S. market is by far the leading market in Social Media Advertising and generated revenues of about US$39.7 billion in 2020. That is a 28.1% share of the total U.S. Digital Advertising market.
The market in Europe was with about US$17.2 billion in 2020 slightly half the size of the U.S. market. However, the segment's share is 24.7% of thewhole European Digital Advertising market. Nevertheless, albeit growing at a CAGR of 7.4% until 2025, Europe will not narrow its gap to the U.S., accounting then for 44.6% of the U.S. market's size.
In China, the segment share is a bit higher: 31.8% of the Digital Advertising revenue comes from social media. Expressed in absolute figures, Social Media Advertising generated US$25.3 billion in 2020.
A closer look on mobile and desktop shares confirms the leading role of the U.S. market: The mobile Social Media Advertising revenue in the U.S.was with about US$33.3 billion more than five times higher than the corresponding desktop revenue (US$6.4 billion). With 82.2%, the importance of mobile revenues in China is similar to the U.S., whereas in Europe it is smaller, with a contribution to total revenues of only 68.8%.
This article will focus on social media statistics and trends to help you get a grasp of the figures behind:
The most popular platforms

The number of people using social media platforms

Where most users based 

What age brackets use the social platforms most? Etc. 
Here are the Top 6 Social Media Statistics For 2021 Marketers
1. The Number of Individuals Using Social Media
The number of people using social media platforms increases by the day as more and more individuals accesses the internet.  
Recent reports have shown that 3.78 billion people in the world use social media platforms in 2021. The number is expected to shoot up to approximately 4.2 billion by the end of this year. 
The reason why the number is shooting upwards is the improvements in mobile accessibility. Almost all mobile devices now offer access to some, if not all, social media platforms, making it easy for anyone to use them. 
2. Facebook Outshines Other Social Platforms
Other than being the oldest platform, Facebook is also the most advanced and used social media platform. It was launched in 2004 when it had approximately 1 million users. Today, there are more than 2.32 billion users who are active monthly!
Statistics have it that India is the leading country where Facebook has many subscribers with more than 350 million active users. The United States comes second with up to 190 million users.
On the other hand, countries with the lowest number of active Facebook users include Eritrea with 0.06% and China with 0.24 %.
It is also worth noting that most Facebook users (about 84%) are adults aged between 18 and 29 years.
3. Time Spent on Social Media Platforms
With social media platforms becoming inescapable, people tend to spend a lot of time on them doing things such as: 
Posting photos, videos, or status

Reading other people's post

Connecting with friends, family, or customers, 

Commenting on other people posts, 

Reading news and updates 
Regardless of what people do on social platforms, statistics have shown that almost every active user spends at least 2 hours and 25 minutes daily online.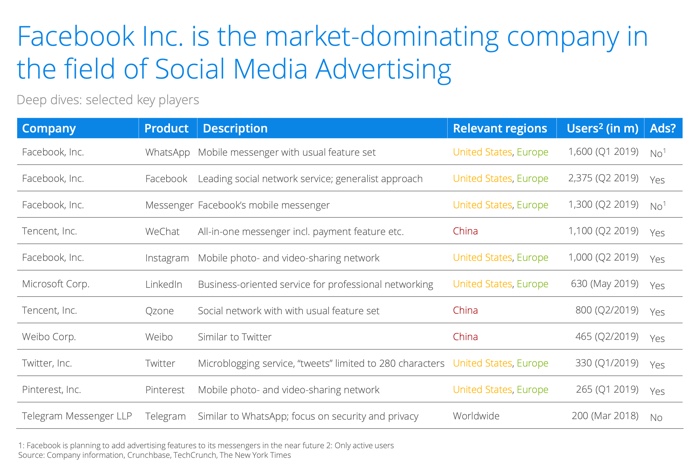 4. On Average, Any User Has Joined At Least 8.4 Social Platforms 
Most internet users have a lot of time to spend on social media. Therefore, to avoid boredom and get significant coverage, people prefer signing up to as many social platforms as possible. 
When you have multiple social accounts, there are no constraints to the audience or content you can access. 
5. Most Users Access Social Media through Mobile Devices
Recent researches have indicated that about 98% of people access their social media accounts through tablets and smartphones. Knowing this is extremely important to those doing business online – they have to create optimized content that can be viewed on mobile devices. If they don't, the conversion rate on social media platforms is likely to go down – people will experience slow loading and error 404.
6. 81% of Small & Medium-sized Businesses Own Social Media Accounts
One of the most exciting things about social media platforms is that they allow people to create personal or business profiles. By creating a business profile, business owners get better chances of creating brand awareness and attending to their customer's needs. 
Today, more than 71% of medium-sized and small businesses market their services or products on social media platforms. Out of this, about 52% create marketing posts at least once per day. Such marketing posts are meant to educate the potential buyer regarding why they should buy certain products and services. 
Wrapping it Up our Top 6 Social Media Statistics For 2021 Marketers
You can't predict the changes that would occur soon as far as social media is concerned, but you can be sure of one thing – it is here to stay and will continue getting better. 
If you are a marketer, you should stay on top of social media trends and statistics to help you adopt better marketing strategies. Note that our article addressed only a few statistics. Consequently, you have to do a lot of research to stay informed.