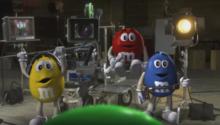 The M&M campaign is its first Halloween campaign since the relaunch of the Mars-owned brand this year. The ad conveys the idea that everyone has something surprising, enjoyable, and distinctive to bring to the Halloween party, regardless of who they are and how they want to celebrate.
In line with the new worldwide purpose of M&M, which is to leverage the power of fun to involve everyone, M&M'S and The&Partnership have developed a campaign that aims to inspire confidence in everyone to participate in Halloween celebrations.
The M&M global hero campaign
At the center of M&M's global promotion is a hero quarter-minute-long film created by House Special dabbed "For However You Halloween." The movie showcases the diverse personalities and interests of the legendary M&M's cast of characters and has been rolled out across online videos, social media, press radio, and audio.
The campaign showcases the characters getting ready for the season in their own unique ways, encouraging the audience to celebrate and forge connections with others. For instance, Green, who is always fashionable, is refining her outfit, and Blue is pulling one of his usual pranks on Orange, who is bravely watching a scary movie.
The new brand direction truly allows us to start showcasing more of each character's own personality," stated Jim Stump, T&P Creative Director. " Halloween is a perfect way to start, and later on, we may allow various characters to appear in respect to certain occasions during the rest of the year as well," He added.
How the M&M campaign is inspiring confidence and a sense of belonging
The 6-second addressable social videos that accompany the film target consumer behavior at three important Halloween customs: baking snacks, viewing scary movies, and trick-or-treating. Then, these films target audience groups with a reputation for being passionate about certain Halloween-related elements.
Chris Brody, brand content and communications architect for Mars Wrigley, continued, "M&M'S is devoted to bringing people together and fostering a sense of belonging for everybody."
"We needed to use our iconic characters to inspire people to feel confident, being their true selves and connecting through shared experiences and the power of fun. Halloween is a key season for consumers as they come together to celebrate old and new traditions.
The campaign has been active worldwide since October 10 and spans OLV, social media, print, radio, and audio.