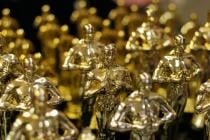 The 95th Academy Awards event this past weekend offered a platform for DM9, a DDB agency in Sao Paulo, Brazil, to inform US viewers about illegal gold mining in the Amazon rainforest throgh a movie, The Cost of Gold.
The two-minute documentary, aims to inform Oscar nominees like Michelle Yeoh, Cate Blanchett, and Brendan Fraser about the moral ramifications of illegal gold mining from the viewpoints of indigenous people.
Oscar stars should consider the true cost of Gold
The tribesman in the movie claims that illegal gold miners in Yanomami territory are to blame for mercury contaminating the area's rivers and woods, which kills both animals and the people who live there. He ends by suggesting that the nominees exchange their gilded sculptures for one that is painted and made of safe materials by Brazilian tribes.
The promotion was purposefully linked to the Oscars in the hopes that stars proudly holding their new gold statues would consider the origins of the precious metal.
The movie debuts at a time when Brazil is actively combating the illegal gold trade, according to the Latin American publication Insight Crime.
The project has subsequently gained support from the president, Luiz Inacio Lula da Silva, the indigenous peoples' secretary, Sonia Guajajara, and Brazilian celebrities like DJ Alok and Luciano Huck, according to DM9.
Insatiable appetite for Gold
A startling $1,912.12 per ounce being paid for gold today is more than six times what it cost a years back. The increase is a result of both the insatiable appetite for luxuries made from the precious metal as well as demand from both private and public investors looking for a loss-hedging strategy.