At close to 44.1 billion U.S. dollars, Tesla's automotive sales made up most of its 2021 revenue. In the second quarter of 2022, deliveries of Model 3 and Model Y vehicles accounted for close to 94 percent of Tesla's vehicle deliveries by Model, duping the Model S and Model X products, which were initially aimed at customers in the high-end sphere of the market. With the Model 3 and Model Y releases, Tesla is now targeting broader customer segments.
What is the marketing strategy used by tesla
Tesla's marketing strategy primarily focuses on creating buzz and building a strong brand image through various channels, such as social media, events, and word-of-mouth. They also use traditional advertising methods, such as television and print ads, to reach a wider audience. Additionally, Tesla uses a direct-to-consumer sales model, where they sell their vehicles directly to consumers rather than through a traditional dealership network. This allows them to control the customer experience and keep costs low.
In China, the brand ranked second behind BYD Auto in 2021 due in part to the popularity of BYD's plug-in hybrid electric models. Tesla faired better in Europe, with the Model Y and Model 3 ranking as the European best-sellers in the first half of 2022. However, while the brand garners regional success, it still faces competition from regional automakers in Europe's national markets. In France, the Model 3 ranked fifth among the leading alternative fuel car and light commercial vehicle models, behind European brands like Dacia and Renault and Asian manufacturer Toyota.
Tesla marketing strategy. Is it any good?
Tesla has been successful in building a strong brand image and creating buzz around their products through their marketing efforts. They have effectively used social media and events to connect with their target audience and build a community of loyal customers. Tesla's direct-to-consumer sales model also allows them to have more control over the customer experience and keep costs low.
Additionally, Tesla's CEO, Elon Musk, has a large following on social media and his tweets and statements often generate a lot of attention and interest in the company.
However, some critics argue that Tesla's marketing is heavily reliant on the personality and image of Elon Musk, and that the company has not yet fully proved that it can continue to generate strong demand for its vehicles without him.
In general, it could be said that Tesla has been successful at marketing, but its success is also due to the innovation and quality of its products and its leadership in the electric car market.
As of 2021, Tesla's market share in the global car market is relatively small compared to established car manufacturers. However, they are considered a major player in the electric vehicle (EV) market and have been one of the leading companies in terms of EV sales. According to data from the International Energy Agency, Tesla accounted for around 17% of global EV sales in 2020.
In the US, Tesla's market share is slightly higher, and it is considered the leading seller of electric cars. According to data from InsideEVs, Tesla sold around 180,000 vehicles in the US in 2020, which represents around 30% of the total EV market in the country.
It is important to note that the automotive industry is a highly competitive and constantly changing market, so Tesla's market share can fluctuate over time.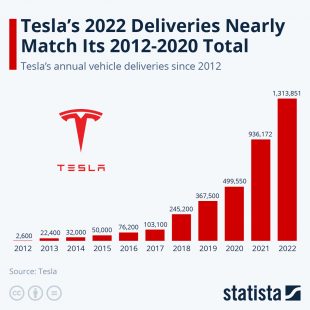 Will Tesla launch new cars in 2023?
Tesla was founded in 2003 and is headquartered in California. In June 2022, Tesla was ranked as the world's most valuable automotive brand, and in 2021 it will be among the top 15 most valuable brands across all industries. That same year, Tesla led the market for plug-in electric vehicles. Most of its models are electric passenger cars, especially sedans and crossovers. But after various production setbacks, plans are underway to launch Tesla's first electric light truck in 2023. Global Tesla car shipments will reach a record 935,950 units in 2021, growing steadily year-over-year from the second quarter of 2022 onwards despite a global automotive semiconductor shortage.
Tesla is expected to add the second-generation Roadster and the widely anticipated Cybertruck to its existing model lineup. While the United States continues to be Tesla's most important target market, the company also aims to tap into the Chinese and European markets.
It is likely that Tesla will continue to release new or updated models of its existing cars, as well as expand into new market segments. Tesla has been known to release new models or updates on a regular basis, like Model S and Model X, Model Y, and Cybertruck. Additionally, Tesla's CEO, Elon Musk, has stated that the company plans to release a more affordable electric car in the future, which could be launched in 2023 or later.
The stock market is a useful way of measuring the success of Tesla. Nevertheless, the true measurement of the brand will be its continued marketing innovation. The company has disrupted the car manufacturing market. Tesla cars are sold primarily through the company's website and at Tesla-branded stores and galleries. Customers can also place orders for vehicles through the Tesla mobile app. Tesla operates its own sales and service centers, as well as a network of galleries and stores, which are typically located in high-traffic, high-visibility areas such as shopping malls. Some Tesla vehicles are also available for purchase at select third-party dealerships.
It is much more than a tweet form Elon Musk, the company has quickly gained a place in the heart of car enthusiasts.