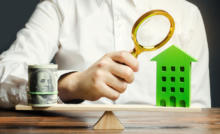 The holidays offer a unique opportunity to purchase a property. There are fewer sellers, the weather isn't ideal, and many real estate professionals are mostly away, which might cause delays and other challenges. However, if done correctly, there are also significant benefits to purchasing a property during the holidays.
Alex Shekhtman, CEO and founder of LBC Mortgage in Beverly Hills, California, says, "While many people equate the holidays with family functions and time off from work, for homebuyers, the holiday season might be a perfect time to buy a house."
Are you considering buying a house as the year comes to a close? Here is what to expect and how to do it like a pro.
Why you should purchase a property during the holidays
As Skekhtman hinted, buying a home during the holidays has some significant advantages. First, there is usually less competition. That enables you to identify a home and negotiate a reasonable price when you do.
You have more negotiation power because fewer buyers are generally in the market. Additionally, many sellers are motivated to sell at this time of year and would be open to a lower offer.
ATTOM Data Solutions agrees by advising that in terms of price, the last two months of the year are the ideal times to purchase a home.
You might benefit from vacation house ownership in more ways than just reduced pricing. According to real estate agent Rachel Bennett, sellers are more determined at this time of year, which is also advantageous.
According to Bennett, an agent with Orchard in Austin, Texas, buyers who are shopping this holiday season will be confronted with significantly less competition and may be able to negotiate several things, such as pricing, seller concessions, and mortgage buydowns.
Finally, there are tax advantages to consider. If you close on your mortgage before the end of the year, you may qualify to deduct your property taxes, mortgage interest, and other expenses in April.
Disadvantages of purchasing a property during the Holidays
Buying a vacation property offers numerous advantages, but there are some disadvantages to consider. First, according to agents, there are usually fewer sellers, which means there are fewer available listings.
Generally, buyers have fewer options over the holidays because of lesser inventory. To see the house as you would live in it, you also have to be able to see past all of the holiday decorations," says Christy Budnick, CEO of Irvine, California-based Berkshire Hathaway HomeServices.
Additionally, the availability of real estate experts, including agents, lenders, and home inspectors, will be limited during this time of year. You will, therefore, have to deal with frequent delays and scheduling.
Timelines will be the most significant obstacles, according to Michael Nourmand, president of Beverly Hills, California real estate company Nourmand & Associates. People are on vacation, and the loan application process runs extremely slowly, making it more challenging to schedule inspections.
The weather and reduced daylight hours can make things more challenging, especially when looking at houses. Additionally, the up-front costs of buying a property, such as the down payment, closing costs, and moving expenses, may be financially challenging, particularly during a season when prices are already high.
Tips for purchasing a property during the holidays
Real estate experts suggest a few techniques to smoothen your journey if you decide to purchase a property over the holidays.
Hire a competent agency
At any time of the year, especially during the holidays, it is critical to have a strong agent in your corner. You should first look for someone with experience and connections in your area.
According to Jon Sanborn, co-founder of the Philadelphia, Pennsylvania-based real estate investment firm SD House Guys, "Fewer houses are frequently listed from Halloween to the New Year.  You will, therefore, require someone to track down those important properties."
 Bennet suggests working with a firm that has numerous agents on staff. That will guarantee your search will continue even if agents take time off to be with their families.
Obtain preapproval to purchase a property
Apply for a mortgage preapproval to help you move fast when making an offer. It will also give you an accurate picture of the price range you should be looking at.
Quickly changing your budget in a rising-rate market is another benefit of getting preapproved.
According to Budnick, the best thing a buyer can do to ensure a seamless transaction is to get pre-approved for a home loan. With interest rates fluctuating quickly, it's crucial to know how much you can afford in terms of housing and what it means for your purchasing power if rates rise while you're looking for a home.
Lay down a purchase plan
Anticipate some absences when shopping over the holidays. It's possible that your agent will travel or you may be taking a holiday. Make sure you have extra points of contact so you can receive prompt responses to any inquiries or issues.
If they have other plans, you should also gather more experts early. That could involve hiring painters, cleaners, movers, and, most importantly, a house inspector.
"The closer you get to finding your dream house," Christa Kenin, a Douglas Elliman agent in Connecticut, advises, "Keep a home inspector on notice." A delayed inspection will aggravate the seller and slow down your mortgage application.
Be assertive and understand the property seller
Agents claim that since demand is lower at this time of year, buyers have leverage, which they should utilize to negotiate the best price.
Sellers would much rather sell a house before winter, according to Kenin. "Buyers can profit from this fear. The closer the holidays go, the more I advise my holiday home searchers to bargain hard."
Work closely with your agent to understand the seller and their reasons for selling to aid in those talks.