Digital marketing tools are key to develop the ability to track granular data such as media exposure, sales, and geolocation, you can derive actionable insights to make decisions and guide future marketing efforts.  If you're ready to go the DIY route to marketing, these tools are a must to reach the right audience for your brand, create relevant content for your target audience and promote leads to buy. In addition, you need digital marketing tools for your website to understand your competitors or know what types of content work best for search engines and your audience. 
Digital marketing tools can help you focus on the aspects of your job that matter and keep your sanity – whether you are looking at page links or developing a content marketing strategy – marketing – tools can help. Here are our favorite digital marketing tools you need to start a business that will help you gain a competitive edge over your environment, from simplifying your social media marketing efforts to project management and finding freelancers. 
Why would you need digital marketing tools?
Digital marketing defines how you, your brand, and your company market your products and services to customers and prospects with digital technologies. The goal of content marketing is to reach potential customers with content. Content marketing tools include blogs, e-books, online courses, infographics, podcasts, and webinars.
These instruments are great digital marketing tools that help marketers understand how much people consume their content and how they use it. 
Tools on which digital marketers rely to get their work done include social media platforms like Facebook and Instagram and analytics tools like Google Analytics. 
Our choices for digital marketing tools in 2021
Google Analytics
It makes sense, given that most people use at least some of Google's products, to use analytics because it is a powerful and easy-to-use product. In the new version of Google Analytics, the tracking code is placed inside the HTML < head > tag, running parallel to page loading.   
Google Analytics is a web analytics service provided by Google to track and report website traffic on all platforms, particularly Google marketing platforms and brands. Small and medium-sized retail websites can use Google Analytics to identify and analyze different customer behavior. As a result, the analytics can improve marketing campaigns, manage website traffic and retain visitors better. In addition, Google Analytics improves e-commerce tracking with powerful features that allow you to track user behavior in your online store, starting with product views, checkout pages, and thank-you pages.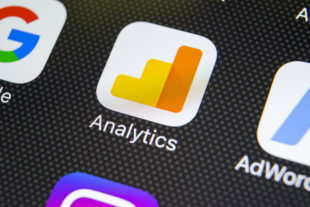 Google Analytics collects user data from website visitors through the use of page tags. Like JavaScript, the page tags run in the visitors' web browser, collect data, and send them to one of Google's data collection servers.
Google Analytics generates customizable reports that track and visualize user count, bounce rate, average session length, session channel, page views, target completion, and more. In addition, when you visit a website with Google Analytics, Google tracks each user's IP address to determine an approximate geographical location.
Depending on your account settings and the products you use, these services may share information about your activities with Google (for example, a partner may use Google Analytics in conjunction with our AdSense advertising service). This information may be associated with your personal information. Learn more about how Google uses the data you use on our partner sites and apps.
Analytics is a powerful application for tracking traffic patterns on your website. For example, in WordPress, you can use our Google Analytics event tracking feature to add outgoing links, file downloads, call-to-action buttons, hashmark tracking, phone link tracking, and more. Analytics is a free program that integrates with other Google programs like AdSense, which makes it even more valuable.
Google Analytics helps companies identify the primary sources of user traffic, measure the success of their marketing activities and campaigns, track completions such as purchases and added products to the shopping cart, discover patterns and trends in user engagement, and gather other visitors information such as demographic data. Google Analytics also integrates with Google Ads for user-generated ratings and online campaigns, tracking the quality of landing pages and conversion goals. You can't recommend these techniques enough to gain a great insight into your traffic and conversion funnel as well as how your visitors behave on your website.
These reports will tell you everything you need to know about website visitors and traffic. You can see the number of conversions performed, the number of visitors landing on certain pages, and the behavior of page contents in the landing page reports. As you delve deeper into your analyses, you will find some interesting information.
Zoho Marketing Automation
Zoho Campaigns is email marketing automation software that helps you run targeted email campaigns to help promote your subscribers and turn them into customers. It is a cost-effective email marketing automation platform that provides all essential automation functions and dilutes their capabilities. Zoho Campaigns is an email marketing automation product that helps you send the right message at the right time to your target audience.   
Businesses of all sizes want to return to their marketing campaigns, and Zoho is the perfect cloud-based solution to track your sales plans, marketing activities, and lead generation process. Zoho Campaigns is effective when it comes to automating the day-to-day work out of the hands of your marketing departments, but it is not as agile and adaptable as other solutions on the market.   
Zoho MarketingHub provides capabilities to collect and manage leads through multi-channel marketing, behavioral targeting, touchpoint tracking, marketing planning, and reporting. Zoho CRM, Zoho Campaigns, and Zoho Marketing Automation provide web forms and funnels for your prospecting and lead contacts across different marketing buckets, each with its own goals and types of content.
Users can also use Zoho's built-in CRM to segment, group, and manage contacts and leads. Zoho CRM synchronizes with Zoho Campaigns built into CRM, and this integration helps you manage your leads and subscriber information.
Authorization-based email marketing – helps capture subscriber consent so you can connect with the people who want to hear from you. Use behavioral data collected by marketing automation to send targeted emails based on the products and services that your leads are interested in.
Once a lead has been added to a specific contact list of your choice for a campaign, you can set up an autoresponder for that list. In Zoho campaigns, a registration form is pushed into the contact list associated with the autoresponder, and the contact receives the autOREsponder email with the least possible delay. If the campaign contains a link to send an email, an action-based autoresponder is created when the recipient clicks on the link.
With Zoho MarketingHub, you can analyze the effectiveness of your campaigns and channels to make better marketing decisions. It has extensive predefined reports to meet the needs of marketing managers. 
Active Campaign
ActiveCampaign combines email marketing, sales automation, and marketing CRM software in an easy-to-use visual platform to help businesses acquire, retain and connect with your customers. The use of marketing automation sets companies apart from their competitors by automating personalized emails to increase sales and customer loyalty. Seamless and easy-to-use marketing automation software streamlines your marketing process across multiple channels and brings your sales and marketing teams closer. You can attract more website visitors, turn leads into customers, and retain your loyal customers.
SendinBlue is a good alternative and offers pay-as-you-go plans to businesses that simply dip their toes into email marketing and marketing automation. For example, the Growth Pardot plan costs $12.50 per month for email marketing, prospectus tracking, lead nurturing, score reporting, forms, landing pages, and Salesforce's standard CRM (Customer Relationship Management) features.
Hubspot
HubSpot, known for its marketing automation platform, has a free email marketing tool that can address many of the transactional email requirements of small businesses. The email marketing product is easy to use and has impressive deliverability, and is naturally integrated with other HubSpot companies known for their CRM and Inbound Marketing software products such as free CRM and hundreds of other popular marketing tools. It is user-friendly, has a high delivery capability, and can be integrated with all HubSpot's products, including CRM.
HubSpot has made the transition to inbound marketing tools and now has a complete CRM platform that offers free and paid sales hubs, customer service hubs, and content management in addition to free or paid marketing hubs. A variety of content management systems, blogging tools, and content curation tools are available.
SEMrush
SEMrush is a suite that improves online visibility and uncovers marketing insights, including SEO (SEO), paid clicks (PPC), social media, and content marketing campaigns. Also, an effective tool to find influencers and potential prospects. 
Sprout Social
Sprout Social provides business social media management, advocacy, and analytics software to gather social mentions from different networks and place them all in one place, making it easy to manage your responses to your account mentions and how often you receive followers and comments.
Mailchimp
Mailchimp is an absolute giant in the email space, with over 250 billion emails sent in the last year by its users. It's for marketing teams who want to drive conversions and reach their consumer-based email campaigns. The email marketing product comes with a free plan containing 2,000 emails every month, a contact list, and a drag 'n' use email builder to create templates to help you get started.
The email marketing platform Mailchimp is iterable and offers analysis for email campaigns, making testing and optimization fast and easy. It automates the sending of emails to your customers at the right time and shows detailed analyses that may be useful in the future to improve your business and digital marketing initiatives. Digital marketing tools that help in the use of marketing tasks range from social media platforms like Facebook and Instagram to analytics tools like Google Analytics.
EMMA
Emma (short for email marketing) offers content testing A / B and has tools such as dynamic content blocks that can be used to deliver different messages to your customers depending on the segment. In addition, Emma's agency email marketing software and personalized services help manage multiple brands under one roof and drive results. Emma has a collection of tools that help companies create and test email marketing campaigns, and it stands out for assisting marketers to understand the behavior of their customers.
Followerwonk Tools
Followerwonk Tools are designed to help improve your social media marketing strategy, such as digging into your Twitter analytics data. Match your activities to gains and losses in followers to give your followers what they like best. It will also help the Follow and unfollow rate hone your social footprint like a razor's edge.
Wyng
Modern companies are looking for an online presence to market their products as more and more people spend their time on digital platforms. Not only are marketers looking for an advantage to reduce online traffic, but social media management tools have become a common way to increase engagement. Wyng, one of the most helpful engagement marketing tools, has helped to transform the way brands engage and convert mobile and social consumers.