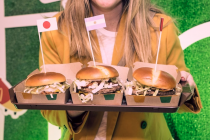 McDonald's has launched its newest vegan burger in UK and Ireland from the plant-based company Beyond Meat, the Double McPlant, which has two patties.
It is unusual for a fast-food dish to get a better reception outside than inside the United States. 
Except for the random promotion, since 2013 Yum Brand's KFC has excluded the Chicken Twister Wrap from their American menus. However, it's a necessary component of its menu in nations like France and China. McDonald's  Huge Wings were not a success when the chain attempted to introduce them in the United States in the 1990s or later in 2013. However, they are a popular and constant menu item in areas like Singapore and Hong Kong.
But McDonald's attempt to embrace plant-based may be the biggest difference between the U.S. and practically every other country. While the McVeggie corn-and-pea patty has been available in places like India, Switzerland, and New Zealand since 2012, McDonald's took its time introducing a plant-based burger in the United States.
There's still a market for McPlant in some places
After promising customers a plant-based burger for years, McDonald's eventually released one at the end of 2021. However, the company only observed a few sales of the McPlant. According to a BTIG analysis, popular eateries in California and Texas were barely selling 20 sandwiches a day.
The burger was developed in collaboration with Beyond Meat as a mixture of peas, rice, and potatoes. But it was intended to taste like beef.
McDonald's began telling media outlets that the test had met expectations after a six-month trial. But the McPlant was missing on the menu on an ongoing basis.
Even while the McPlant's American saga may be over, there is still a significant market for the sandwich elsewhere.
On January 4, the Double Double McPlant, will be available at the almost 1,400 McDonald's restaurants in the United Kingdom and Ireland. The sandwitch consists of the same tomato, lettuce, and cheese on a bun sandwich but with two patties,
The normal McPlant became permanent in the UK in January 2022 after a trial run that was far more successful than in the US, and the Double McPlant will join the roster a year later.
According to Michelle Graham-Clare, chief marketing officer for McDonald's UK and Ireland, the company had a tremendous reaction to the trial period back in October. Even now McPlant is in retail parks, on the high street, and in gas stations.
Why McPlant is doing better outside the US
Why then did something so well-liked overseas fail to catch on in the United States?
While there are several tales about how much Americans adore their actual meat, the truth is that rivals like Burger King, owned by Restaurant Brands International, have been effectively distributing plant-based burgers since 2015.
Through 2030, the U.S. plant-based market is still anticipated to expand at a compound annual rate of 19.3%.
However, the McPlant was launched at a period when consumer demand for alternative meat peaked and the market was overrun with a variety of goods.
As more companies have entered the alternative-meat market, Beyond's stock price has plunged precipitously. Additionally, the high price of substitute meat is unquestionably a concern, especially when inflation is on the rise.
According to BTIG analysts Peter Saleh and Ben Parente, for McPlant to be more widely available, the price point needs to be more competitive with regular burgers, and the health and climate benefits need to have more emphasis.