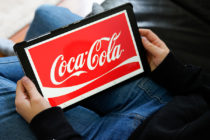 Simply Spiked has a new campaign, Juicy Calls, inviting followers to indulge in their late-night cravings and send a text message with a peach emoji to a certain number to receive a free sample of its new peach-flavored variety. 
Simply Spiked is a  joint venture between The Coca-Cola Company and Molson Coors Beverage Company.
Customers in New York City, Miami, and Washington, DC who text the emoji to 73255 late on Friday, March 24, will get a delivery of the beverage right to their doorstep.
In its promotional film for the "Juicy Calls" campaign, Simply Spiked engaged comedian Ron Funches to inspire viewers to indulge in their late-night cravings.  The brand pulled the campaign off with the assistance of a creative agency Mischief.
Nothing subtle about the Juicy Calls campaign
With this campaign, Simply Spiked is not exactly going for subtlety. The peach emoji at the center of the campaign is frequently used in late-night "booty calls". The Peach campaign is dubbed "Juicy Calls" by the alcohol manufacturer, playing off the theme. The use of SMS highlights the strategy's continued value for businesses trying to strengthen their relationships with devoted customers.
The new product assortment is being introduced with irony. In the advertisement featuring Funches, the comedian can be seen drinking from a 24-ounce can of Simply Spiked Peach while wearing silk pajamas and a robe.
Before changing to a more neutral tone, Funches remarks in a suggestive manner, "I know what you must be thinking. How are you drinking that Simply Spiked Peach before anyone else, and how can I do the same?" He then moves on to describe the outline of the plot of the "Juicy Calls."
The delivery promotion will run on March 24. Fans who are over 21 and in particular ZIP codes in New York, Miami, and Washington, DC, can text the designated emoji after 10 p.m. to receive a variety pack of Simply Spiked Peach. Sending the text will entitle non-residents to a gift card, redeemable for a limited 12-pack of Simply Spiked Peach once it's publicly accessible in stores.
The Simply Spiked Pech products, which have 5% alcohol-by-volume and 5% actual fruit juice by volume, are the outcome of the union between Molson Coors and Coka-cola on product innovation. Mango Peach, Strawberry Peach, Kiwi Peach, and Signature Peach are the new flavors added to the Peach product line.
A response to the long demand for peach flavor
According to the brand, Simply Spiked Lemonade immediately gained popularity after its introduction during the summer of 2022, especially among young Black consumers. According to Joy Ghosh, the vice president of Above Premium Flavor at Molson Coors Beverage Company,  customers had shown a desire for peach flavor from the very beginning. 
"Since we introduced Simply Spiked Lemonade last year, our customers have been on the lookout for peach flavors. As delicious as the new flavors are, we wanted to give our fans the first opportunity to experience Simply Spiked Peach," she said.
Data is what Simply Spiked based its decision on to include a peach category. according to the beverage company, d During the next four years, peach taste growth is expected to outpace that of 90% of all other food and beverage ingredients.
Winding up
Other than the Juicy Calls campaign, Smply Spiked Peach will also be mentioned in a plot line during season two of "Bel-Air," the recreated version of "The Fresh Prince of Bel-Air" on Peacock.