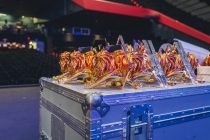 As Cannes Lions International Festival draws its curtain on the 2022 festival, 'Data Tienda", takes home two Grand Prix wins. 
The first Grand Prix was announced during the penultimate Award Show of the Cannes Lions Festival, where "Data Tienda" was recognized as the ultimate winner in the Creative Data Lions category.  
In this category, 13 Lions were awarded, three bagging Gold, three Silver, and six bronze out of the 328 who applied. The Grand Prix went to "Data Tienda" an initiative by WeCapital that enables the automation of credit data for unbanked women in Mexico. 
On the final day of the festival, "Data Tienda" added another Grand Prix win for the second category, Glass: The Lion of Change. 
The Story of  "Data Tienda"
Data Tieda is a financial information center created by DDB Mexico and WeCapital.
According to Forbes, 83% of women in Mexico do not have a credit history. But this is not entirely true because they have credit records that lending institutions do not recognize. Therefore, these women cannot access funding to pay for their education or provide capital for their startup businesses. 
Their unofficial credit records are held by local businesses who have advanced credit to them almost all their lives. WeCapital and DDB Mexico have taken the initiative to make these records official through the datatienda.mx platform so that financial institutions can access them. 
The platform makes it possible for the local business owners, where the women make credit purchases, to easily fill in the transactional information. This information provides a basis for calculating these women's credit scores.
WeCapital has helped 23% of women access bank funding through this initiative.
The Creative Data Lions Award
Cannes of Lions seeks to celebrate the interplay of ideas and information through this award.
Therefore, to be considered for this award, applicants must prove increased customer engagement and business success from the innovations they have implemented along the customer transaction journey. 
The jury picks a winner based on four metrics which are also assigned different weights as follows:
Idea 30%

Result 30%

Strategy 20%

Execution 20%
Here is how "Data Tienda" managed to win the Creative Data Lion
There are two key factors that caught the jury's attention in their final decision :
A simple "What if" idea

: Solving a current problem only requires a curious mind that asks "What if?" and a deeper look into what already exists, and not necessarily breaking the bank. In this context, WeCapital dared to ask, "

What if

the old notebooks held by all shopkeepers could be the solution to today's problem?"

Success and Scaling (Result)

: Collecting such massive data would require a vast team of data collectors. Instead, WeCapital found a solution by using Whatsapp bots to deliver the forms that the shopkeepers needed to fill. From that, 10,300 credit records were generated, making it possible for these women to access modern banking.
Glass: The Change Lion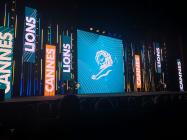 This award honors work that seeks to end gender inequality.
WeCapital, through its Data Tienda initiative, has made it possible for women to access loans by helping them develop financial records acceptable to financial institutions. By doing so, they have leveled the playing field for low-income women whose situation had been aggravated by Mexico's high rates of violence, poverty, and lack of official credit history for many years.
"Data Tienda" now empowers women by ensuring they can access credit to start businesses or pay for their education.
Here is how "Data Tienda" managed to win the Glass Lion
WeCapital applied creativity to a large extent to bring change to Mexican women. The fact that  the results of this work also had a long-term impact that's scalable tipped the scale in favor of "Data Tienda"
But getting to a final decision for the jury was not as easy as you'd imagine. Initially, there was a standoff when all men voted one way, and all the women voted another way. That was until one of the men changed his vote, noting that the issue was "clearly affecting all women".
"Data Tienda" had close competition from Ogilvy's "Don't ever leave me" campaign against domestic violence. In the end, the jury agreed to settle for the idea that would bring about a sustainable systemic change.  Ogilvy's campaign, therefore, received Gold in the same category.
The Big Picture
DDB Mexico and WeCapital have bagged Mexico's first-ever Cannes Lion Grand Prix. And it was not one but two wins, one under Engagement (Creative Data Lion) and the other under Good (Glass: The Lion for change).
The Cannes Lions, through its annual festivals and push for creative excellence, is determined to make the world a better place, and brands have embraced this idea.