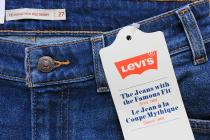 The enduring 501 jeans from Levi's turns 150 this year. The brand developed "The greatest story ever worn," a global 501 jeans campaign that immortalizes some of those events throughout time, to honor this milestone and the countless individuals who have chosen to wear 501s.
The 501 jeans campaign hero ad video
Martin de Thurah was the director of "Fair trade," the campaign's hero movie. It follows a guy who was born in 1982 on a farm. While reading a magazine, he comes across a pair of 501s, which inspires him to exchange his family's cow for his neighbor's pair of jeans. The entire spot is accompanied by jangly 1980s tune, which adds to the retro atmosphere.
Shorter commercials in the 501 campaign
There are also two shorter commercials in the campaign, "Legends never die," which was also directed by de Thurah, and "Precious Cargo," which was made by Melina Matsoukas. "Legends never die,"  immortalizes a man who passed away and asked that everyone attend his burial wearing their 501s. While the 1961 country ballad My Blue Heaven by Cliff Richards plays in the background, the camera wanders among various denim colors.
"Precious cargo," on the other hand, describes the uproar Levi's caused in 1970 when their 501s arrived in Jamaica. Young Jamaicans can be seen dancing to the Toots & The Maytals song "54-46 Was My Number" while sporting the jeans.
Every story is based on a real-life experience of a 501 wearer
George McQueen, group creative director at Droga5, claims that every story he and his team create is based on a real-life experience of a Levi's 501 wearer. The characters in the tales, who range from common farmers to mythical figures, may have varied tones, tenors, and central roles. However, the 501 denim, one of the most iconic pieces of clothing ever manufactured, is the subject of all of these straightforward, unwavering stories.
The earlier 501 advertisements that leaned on the history and legacy of the jean, such as the environmentally aware "Buy better, wear longer" campaign launched in 2021, are echoed in "The greatest story ever worn."
The campaign includes videos, social media, out-of-home print, and other activations and launched during the Grammy Awards.