You have a great idea for a new business, and you're ready to start finding all those customers but you may be missing what many fail to create sound marketing strategies for small businesses.
However, even with the best products or services in the world, your potential customers won't know about you until you put together a great marketing strategy.
Here are 16 well-researched, essential marketing tips that are sure to increase your visibility, help attract many new customers, and retain those you already have.
Follow these tips in sequence and look forward with anticipation to landing that first sale and all repeat business that comes your way!
1. Set a Goal and a Budget
Your first step to marketing your new business is to define your business goals and to create a budget. As you do this, ask yourself the simple question, "What do I want?" Keeping this in mind will help you decide what is important to you; do you want to have global exposure or only appeal to local customers? Are you looking to promote your brand, or increase online sales? Or both?
Prioritize your goals. What are your most immediate and most important long-term objectives? To set up and manage your budget, and effectively keep track of your finances, try using an online tool such as Mint which is free.
2. Know Your Business and Know Your Customers
Before you decide on which elements to integrate into your overall marketing strategy, consider your target customers. What is their demographic? How old are they? Where do they live? What online services do they use? How would they look for your product?
In other words, what are your customer's marketing personas?
Having a clear picture of this will allow you to develop a detailed, targeted and more effective strategy which focuses on the channels most likely to result in the best outcomes, the ones you are seeking.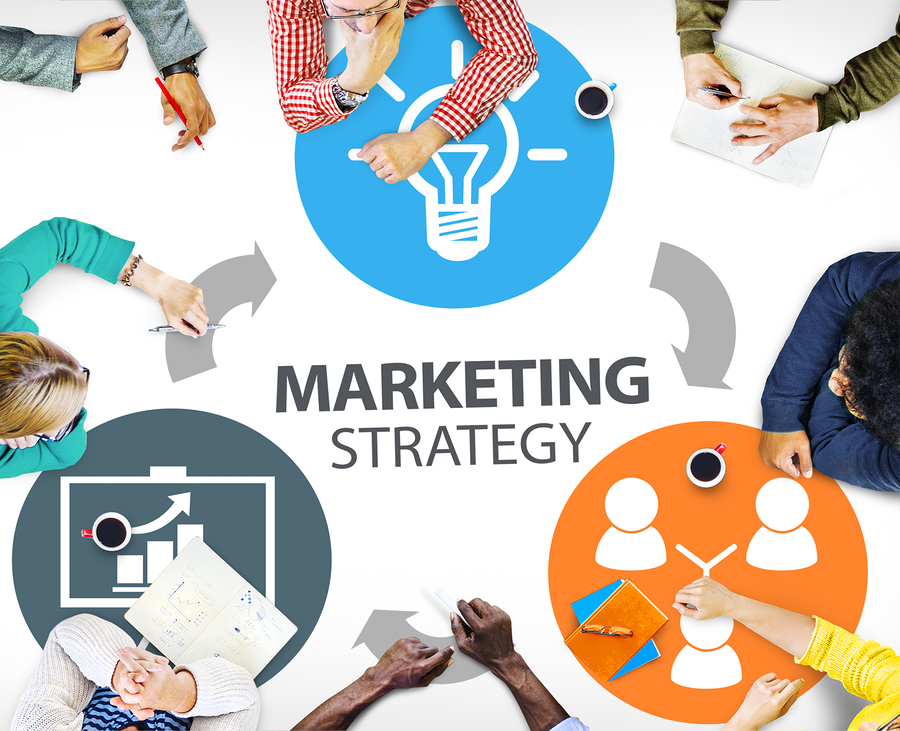 3. Branding – Establish a Clear Identity
To communicate everything that your company represents, its mission and values, you need to have a clear identity everywhere; on the web as well as in printed material. Once you have decided this, then you need to move on to choosing a suitable name, logo, color scheme as well as imagery that conveys this to your customers.
You have several options for doing this, and these include doing it yourself with a popular tool like Canva, or by hiring a freelancer, or collaborating with an established branding specialist. Other companies like Crowdspring can provide a one-stop-solution for everything.
Once you have the starting point, which is your logo, make sure it appears on everything; website, advertising, stationery, envelopes, business cards, as well as your email signature. Having this all in place is a great way to build brand awareness and visibility for your target audience.
4. Build a Great Website
One thing to avoid is a poorly designed website. Not only do you want to attract new visitors, but you also want them to become customers.
Keep in mind that it's not merely the visual appeal and page layout of your website that matters. Factors like do pages load quickly, does it help your prospective customers get to your social media pages, is it user-friendly and, most importantly, does it make it easy for customers to contact you?
There are many options available to you in getting your website up and running. It all depends on how much you are prepared to spend or how technical and hands-on you are.
An excellent free resource on doing it yourself is available from Shannon Mattern. It is a step-by-step video training which shows you exactly how to build a website with WordPress in just five days. All you need to is register and pay for your domain name through a company such as GoDaddy and to buy hosting for your website with a company such as Bluehost.
5. Create Your Landing Page
The landing page on your website is an essential marketing tool for helping create awareness and engagement with your visitors. This page is designed to limit the visitor's options by presenting specific, targeted information. The goal of doing this is to optimize the conversion of the visitor to a paying customer. Landing pages typically are used for sales announcements, contests, and product launches.
The visitors to your landing page could have been directed here from a link on one of your social media pages, an online ad, or even a blog article.
6. Build Social Media Profiles
Your priority in starting to incorporate social media into your business is to give some thought to an overall social media marketing strategy.
Start simple with perhaps only two of the available platforms. Avoid making assumptions about where your prospective customers spend their online time. If you are targeting millennials, your instinct might be to skip Facebook and focus on Instagram and Snapchat. However, according to Hootsuite, the data shows that 82 percent of millennials still use Facebook.
7. Don't Forget Email
Despite having been around for decades, email remains one of the highest converting channels for nurturing leads available to you. Your email marketing strategy would involve highlighting new products, special offers, and other essential business updates and prompt your existing email list recipients to click through to your website. The results of this email marketing can be measured and leveraged to ensure you're your subsequent email campaigns are tuned and tightly focused.
Because Email is more likely to be read than social media posts, it has consistently been found to be more effective for customer engagement than Facebook, Twitter, Instagram, and other social channels.
On your website, provided you can afford it, an email automation platform like MailChimp or Constant Contact can be integrated and built into every page of your website. Permission marketing strategies are great for small business, users can always unsubscribe if they feel the information is not relevant. Just keep an eye on your cost of acquisition.
According to Neil Patel, the larger your qualified email contact list, the more successful your business will become.
8. Understand the power of SEO the secret sauce of marketing strategies for small businesses
Before you write any website content or your first blog post, make sure you have a good understanding of Search Engine Optimization (SEO.) One of the essential ways of directing web traffic to your site is through Google searches. As Google over time changes and improves its search algorithms, you need to ensure that your keyword page optimization stays up to date. This will make sure you rank highly on searches.
SEO-optimization involves using common keywords on your website pages and blog articles that web users search for when using search engines.
By striving to have your site show up on the first page of results hugely increases your chances of attracting clicks through to your website. It is one of the most profitable pf marketing strategies for small businesses in the long term.
9. Publish a Blog
Blogging can not only be rewarding, but it can be hugely useful for exposure and branding. Your company blog is where you can reach out to potential customers and demonstrate that you're an expert in your field and can be depended upon for guidance and advice.
You can also utilize this platform to show off your products, services, and make announcements. Anything from awards, project completions, the reaching of significant milestones or impressing with your business savvy is fair game here.
Quality over quantity is vital, and consistency is essential. Use your calendar and scheduling software to commit to publishing at least one new blog post every week. Check out the Drizly blog for tips and examples of great blog posts tailored to its specific industry. It's about execution and being a reliable content generator, marketing strategies for small businesses in social media is more than being funny, it is about relevance.
Be sure to optimize each blog post for SEO so that prospective customers can find your blog content.
10. Use Facebook Ads and Google Ad
You might question as to why you would need to pay for Facebook Ads. It is said that, due to an in-built Facebook algorithm, unpaid views on Facebook posts may reach only 1% of your audience.
Facebook advertising works incredibly well, providing you with powerful audience targeting and a wide range of ad format options all at a relatively low cost. Young Gen Z users are not as keen on using Facebook as their predecessors; nevertheless this platforms continues to be a great tool as far as marketing strategies for small businesses go.
A free guide explaining why Facebook advertising should be included in your marketing strategy is offered on the WordStream website.
Google Ads (formerly known as Google AdWords) can also work for your new business. However, it does require some in-depth research, not only into the setting up of your ads but, as for Facebook, you will need to budget for the cost of doing this form of advertising.
11. Sponsor a Local Sports Team
With your business being online, it might still be an idea to follow the more traditional ways of gaining visibility. As an example, by sponsoring a local sports team, you will make people aware of your company in their neighborhood.
With people's affection for their local sports teams, having your logo emblazoned on the team's gear will associate your brand with the local area. When thinking of marketing strategies for small businesses always look at what matters to the consumer.
12. Do Charity Work
As for sponsoring of a local sports team, getting involved in charity work is also a great way to show off your business's corporate responsibility and credibility.
Attending local charity events and donating funds to important causes will raise the profile of your business.
13.Work the Referrals
Customer feedback has never been more critical in today's social media world. Satisfied customers can provide you with one of your most valuable marketing tools – testimonials.
These satisfied customers are considerably more influential than even the best-written sales copy. However, make sure you include genuine, sincere testimonials and reviews from your most enthusiastic supporters. These testimonials could appear on your product pages, landing pages, pricing page, even your home page.
14. Share Your Knowledge
Knowledge sharing can put you ahead of your competition and can consist of anything from YouTube tutorials to webinars, through to speaking at local conferences. Don't forget to repurpose your presentations and put them on your blog.
Making sure you choose a hot topic for your industry, put together a webinar, keeping in mind topic selection, promotion, and technical considerations.
15. Survey, Listen, Learn
Because you want to be constantly improving, look for feedback from your customers. Ask your customers and email subscribers to comment on their experiences by completing a survey offered perhaps by an online tool. It might be a valuable incentive to even offer a discount to those that do.
Feedback will not only result in some handy testimonials but will also highlight the areas that need improvement.
16. Join or Create a Facebook Group
Each Facebook Group is essentially a community within Facebook's platform. Users can join these groups where participation is encouraged around common interests or goals, like cooking or running. There are many business-focused groups too.
Of the two billion active monthly Facebook users, one billion of those users participate in Facebook Groups.
Creating your own group is a cost-effective and inexpensive way to reach your target market.
Bottom Line: Focus on What Works Best for You. Not all Marketing Strategies for Small Businesses are born equal
There is an overwhelming number of different marketing options for you to consider as you try to increase your visibility. Initially, you won't be able to do everything at once.
What's more, with the nature of business, the internet, and the economy, be prepared to be flexible and open-minded. Feel free to test a variety of marketing approaches and don't be afraid to keep changing things up in small increments. Have fun, creative and be consistent, that the key to marketing strategies for small businesses.