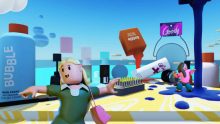 The retailer announced Monday that it would launch two Walmart immersive experiences on the Web3 platform Roblox. Young children and Gen Z love the massive metaverse platform called Roblox.
The giant retailer is aiming for the next generation of consumers. This follows Covid-19 changed consumers' purchasing patterns and increased e-commerce sales.
Through these experiences, Roblox users can purchase virtual goods in Walmart Land and Walmart's Universe of Play, ride a Ferris wheel, and earn tokens and badges by competing in different activities.
Walmart Land immersive experience
Walmart Land includes three significant experiences, all of which are geared toward the next generation of customers:
Electric Island: Inspired by the biggest music festivals in the world, Electric Island features a dancing challenge, an interactive piano boardwalk, a Netflix trivia experience with Noah Schnapp, and a DJ booth where users may practice mixing rhythms.
House of Style: This event will include goods from brands, including af94, UOMA by Sharon C., ITK by Brooklyn & Bailey, Lottie London, Bubble, and more. It will consist of a virtual dressing room, a strike-a-pose challenge, a comprehensive cosmetics obstacle course (obby), and a roller-skating rink.
Electric Fest: Users can return to Electric Island for "Electric Fest," a motion-capture concert celebration launched in October, where well-known performers like Madison Beer and Kane will perform.
The "Stranger Things" actor Noah Schnapp will participate in the Netflix trivia experience at "Walmart Land. Additionally, it will market "verch" for avatars that correspond to actual goods sold in Walmart stores.
The Universe of Play immersive experience
The more kid-friendly Universe of Play includes a Walmart blimp, hoverboards, games, and virtual toy awards.
For the holiday season, it will provide immersive games with characters from its most well-liked toy items, including Paw Patrol and LOL Surprise!
Metaverse Retail Aspect
The metaverse, despite its novelty, offers enormous opportunities for businesses to advertise or sell tangible and intangible products to its millions of users. It will be easier for those adopting VR stores and products to establish authority in the metaverse.
Following in the footsteps of companies like Nike, Barbie, American Eagle Outfitters, and Ralph Lauren, Walmart is one of the best well-known retail names to make an appearance in the metaverse. The retail giant demonstrates its commitment to the industry with two virtual worlds. 
Roblox, Walmart's platform of choice, will help the retailer draw in a younger audience because it has more than 50 million active daily users. Of those, two-thirds are under 16, and one of its virtual worlds is swarming with "the year's best toys.
Walmart is targets Gen Z
Walmart is particularly interested in attracting Gen Z to VR. Madison Beer and Kane Brown will play at Walmart Land's Electric Fest. Products like afp4, Halsey's beauty collection, and YouTubers Brooklyn and Bailey's skincare are available in its virtual changing room.
According to a business press release, Walmart's chief marketing officer, William White, knows customers are spending "loads of time" on Roblox.
Roblox's role in the Walmart immersive experience
Walmart will use Roblox as a proving ground as it looks into expanding into the metaverse and beyond. The store is making an effort to be present where consumers, especially younger shoppers, hang out. Roblox is the location at the moment.
The metaverse is led by the game platform Roblox, launched in 2004. However, internet heavyweights Facebook, Microsoft, and Epic Games have announced major ambitions to join the buzz. When Roblox started trading last March, the firm's value quickly increased to $45 billion.
Earlier this year, Omar Dessouky, a Bank of America analyst, said, "We think teens, and perhaps adults, could someday perceive Roblox as a multi-purpose platform. One similar to how social networks were viewed when they extended outside their core university student population."