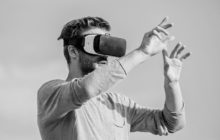 Brands constantly look for exciting and catchy promotions to take advantage of holiday sales spikes. Virtual holiday stores are an effective sales channel, especially during peak seasons, offering customers a new immersive shopping paradigm. With a virtual experience, businesses can design a setting based on their physical store, a fun concept store, or a total fantasy setting.
Why your brand should invest in virtual holiday stores
If you are wondering why you should invest in a virtual store in the first place,  here are three key advantages of online holiday shops:
A brand-new, entertaining virtual avenue to increase revenue

A distinctive, engaging, and research-driven buying experience

CGI (

Computer-Generated Imagery)

production costs are less than those of on-location shoots
Brands with successful virtual holiday stores to inspire you
Several retailers have successfully launched Christmas virtual storefronts, as highlighted below. These retailers integrated distinctive e-commerce and content capabilities that let consumers interact on a richer and more immersive level than on conventional e-commerce websites.
Sam's Club developed a virtual holiday store to give its customers an engaging and exploratory shopping experience. In the store, the Griswold family home from the popular holiday film "National Lampoon's Christmas Vacation" from 1989 comes to life in 3D. Users can browse Sam's Club vacation necessities in a comfortable and familiar environment.
Users see two ornaments on the corner of the screen when they first enter the store that may swap between several Christmas décor designs. They can choose between a Thanksgiving table and a Christmas table setting in the dining room. Customers can also check several sets of products linked to each style, thanks to the functionality, which offers a tailored experience.
To purchase any product inside the experience, users only need to tap on the item they desire. They can also interact with several sites to find movie trivia and hear sound effects. The user is drawn further inside the store thanks to the content, which increases engagement and conversion.
The Holiday Village is an online shopping experience established by the media brand theSkimm. The virtual store was inspired by the Bryant Park holiday village in New York City and is located in an online version of Bryant Park. The online shop was a part of their "The Sleigh List" holiday gift guide, which features the top gifts for the coming season. The Holiday Village offers an immersive and exciting visual representation of the gifts on its list of suggestions.
The experience consists of seven shopping cabins, each of which has a variety of presents, including electronics, stocking stuffers, gifts for significant ones, and more. Users can select any product to display a brief description and a link to the brand's website. The customer can then complete their purchase and earn the theSkimm affiliate program commission.
Saks Off 5th sponsored one of the cabins and allowed theSkimm to develop a new revenue stream of sponsored content featuring their branding and products. TheSkimm received a prize for the Best Use of Native Advertising / Sponsored Content at the Digiday Content Marketing Awards thanks to this experience.
Charlotte Tilbury's Virtual Beauty Gifting Wonderland provides a virtual holiday experience for customers of beauty products. Users are engulfed in animated stars and fairies as they enter the fanciful 3D wonderland and are led by a virtual character named "Magic Charlotte" as they explore.
Customers may buy in the online store, get individualized product recommendations and guidance, attend live events with Tilbury and special guests, and view cosmetics and skincare lessons. By sending a link to the virtual store via email or text, Charlotte Tilbury customers can choose to invite friends to join them as they shop using the Obsess Shop with Friends feature. Individuals in the group can see and hear one another while navigating the virtual environment individually or collectively, thanks to the Shop with Friends function, which is akin to playing a multiplayer video game.
At dusk, a beautiful estate in Tuscany serves as the backdrop for Salvatore Ferragamo's House of Gifts Christmas virtual experience. Customers move through the villa's 3D-rendered rooms, all contextually stocked with Ferragamo goods. The area draws inspiration from Ferragamo's "Movie O'Clock" advertising campaign and offers clients a sophisticated online holiday shopping experience.
Customers can explore products throughout the online store and add them to their shopping carts or a "wishlist." The wishlist is then sent via email or WhatsApp to friends.
There is also a quiz that asks for present ideas. Users receive recommendations for items from the store based on user responses. Any virtual store can add this feature to get first-party data while encouraging customers to buy from them.
For the winter holiday season, Tommy Hilfiger opened a web store. The user moves through a festive scene with candy canes, presents, and brilliant stars after entering the 3D immersive world. A few interactive experiences are available to increase user engagement. "All of Our Favorite Scents," allows users to click on a smell and receive directions for a DIY Diffuser. Users can find different recipes in the "Tommy Hilfiger Hot Chocolate Bar" experience. They can also view a brief instructive video on eco-friendly gift wrapping with campaigner GreenGirlLeah in the "Get All Wrapped Up" section. 
These are only a few options that you can include in your digital holiday experience. Virtual storefronts let businesses design unique, immersive, and discovery-driven experiences while minimizing the expense of a physical holiday experience. They provide merchants and brands with a cutting-edge virtual sales channel that boosts customer engagement, click-through rates, and conversions.