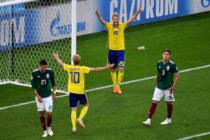 The Tunisia VS France match was held at the Education City Stadium on Wednesday.  France's winning streak came to an abrupt end after the Eagles of Carthage trounced them 1-0. In this match, Tunisia earned three points thanks to Wahbi Khazri's goal just before the hour mark. But Australia's 1-0 victory over Denmark meant Wahbi's goal was insufficient for coach Jalel Kadri's team to make it to the knockout stage.
France's experiment backfired
Didier Deschamp planned to keep his key players fresh for the knockout round while heavily rotating his team during the Tunisia VS France match. Griezmann, Kylian Mbappe, and Adrien Rabiot were first given rests and only later joined the match as substitutes.
Unfortunately, Marcus Thuram was unwell and could not play. 
The Tunisia VS France match saw Axel Disasi make history by becoming the first French player to make his World Cup debut since 1966. Steve Mandanda, on the other hand, beat Bernard Lama's record for being the oldest player for Les Bleus at almost 38. 
 Without Theo Hernandez, the reigning champions seemed to struggle from the beginning, with players like Eduardo Camavinga fumbling in a makeshift left-back position.  It was, therefore, no surprise when Tunisia threatened to score first.
However, Deschamps did not address his team's issues at halftime, and the Tunisians continued to pose a threat to the French team.
It was no surprise when Khazri, who Aissa Laidouni had set up, scored the opening goal for the Eagles of Carthage shortly before the hour mark. The Montpellier player's goal was Tunisia's first in Qatar, but it was too little, too late, as Australia quickly regained the lead.
Mixed feelings at the Tunisia VS France match
"We are excited to beat a team like France, but we also feel conflicting emotions about it," said Kadri.
 "Although it is a bitter triumph, we are proud and go away with our heads held high. It would have been lovely to defeat France and advance to the round of 16. We are to blame for not taking the necessary action earlier. Nothing is impossible, as I stated. We were successful in defeating the world champs. We were able to demonstrate our effectiveness, exercised teamwork and we gave it our all. Although it was difficult for us to attain these four points, we leave with great pride and honor," he added.
The goals made at the Tunisia-France match
Tunisia's Nader Ghandri's header within the first 10 minutes of the game was declared offside.
Like Breel Embolo, a Cameroonian who played for Switzerland, Khazri scored a goal against his native nation while representing his adoptive international team. In an attempt to rescue Les Bleus from their uninspiring performance,  Deschamps brought in  Mbappe, Rabiot, Griezmann, William Saliba, and Ousmane Dembele, but that did not change the outcome.
Griezmann's goal at the very end would have saved Les Bleus, but VAR overruled it. No one anticipated that the French, who won Group D, would break their unbeaten record and place second in a point-to-point tie with the Australian team.
What next for Tunisia and France?
While Tunisia will be happy to have defeated France, they will be incredibly sad that their failure to beat Australia earlier prevented them from advancing to the knockout stage. The French, however, proved that despite their overall brilliance, they are still not at a place where they can be considered champions to retain their title. Les Bleus is distinctly ordinary without Mbappe, Griezmann, Rabiot, and Dembele.