With 2020 on the horizon, new and disruptive technological innovations are forcing marketers to evolve their best practices. Here we examine several major marketing trends are seen to be developing for 2020 and beyond.
Once the only game in town, digital marketing has led the way to multichannel marketing. Today, we are rapidly approaching what has become known as the omnichannel marketing age.
All this technology may be overwhelming; it feels as if you're trying to drink from a firehose. As the rate of technological innovation continues to accelerate into the marketing world, most companies are finding it a challenge to keep abreast of advances.
However, you know that is that new ways of doing things will bring new opportunities to consolidate your company's brand and to drive up sales.
Here are eight top marketing trends to follow into 2020:
1. Interactive Video Content
As reported by Quick Sprout, video marketing has been trending upward for years. We see an increase in video usage on social media, websites, and blogs. People are even running successful video blogs.
Here are some video marketing statistics for 2018 presented by WordStream that you might find interesting:
82% of Twitter users

 watch video on this platform

YouTube has over a billion users which is almost one-third of the total number of internet users

45% of people watch more than an hour of videos every week on Facebook or YouTube

More than 500 million hours of videos

 

are viewed on YouTube every day

More video content is uploaded in 

30 days

 than the major U.S. television networks have created over 30 years.

87% of online marketers

 use video content.
Moreover, in 2019, we'll start seeing additional changes in the way users consume video. Now we are talking about interactive videos. These are a new form of media that many top brands are implementing to engage consumers and reach their digital marketing goals.
As stated on the wyzowl website: "While new, this media has already proven to be very effective; 70% of marketers say interactive video engages audiences 'well' or 'very well,' and 68% of marketers are convinced it will continue to become a more critical component of modern marketing mixes."
Your business can use interactive videos for many different purposes:
Email

Website

Social Media

Blogs
The concept behind interactive videos is to increase audience engagement. Since there is a higher chance that people will finish watching a 360-degree video, these perform better than regular videos, and you'll get a better return on your investment.
98% of people in the United States report that 360-degree videos are more engaging than traditional video formats, and this results in more engagement.
Up to 90% of people are saying content is more enjoyable when viewed with a 360-degree view. As a result, this means it should be no surprise that 360-degree videos result in a click-through rate eight times higher than that of videos in a more traditional format.
Furthermore, 70% of marketers say interactive videos have had a positive impact on their businesses. Your prospects are 65% more likely to interact with a 360-degree video.
2. Optimizing for on-SERP SEO
You might not have heard of zero-click results. However, over the past couple of years, you've probably noticed them more and more during Google searches. A zero-click result is a search result where Google automatically provides the answer to your search query in the form of a snippet.
As an example, if you type in, "What is the temperature in San Francisco?" Google will automatically provide you with the result it generates on its own. You then need to scroll down to see the Adword and, most importantly, organic search results.
Google auto-populates its search results for broader queries, as well. Everything from "How to convert USD to yen?" to "How do I deworm my dog?" results in snippets that may prevent you from scrolling down to see more results.
The known unknown
So, why is it important to know this? Because 61.8% of search results in Google are now zero-search results. As reported by Rand Fishkin, data from Jumpshot shows that it is becoming more challenging to profit from more and more keywords. Keep this in mind is the challenge when considering future marketing trends and efforts.
The automatic snippet sometimes is provided by a website that ranks somewhere on the first page of the search engine results page (SERP). However, it's not always clear how one should optimize content so that Google chooses one over others that are competing for the same spot. Any business that markets or advertises on Google should be concerned about this.
3. Advertising on smart speakers
A significant development in recent years has been the proliferation of smart speakers. By the end of 2019, according to VentureBeat, we can expect 200 million smart speakers will in use by consumers,
Despite the growing number of households asking questions of Alexa, Siri and Google Home, smart speaker marketing and advertising opportunities have not presented themselves. However, there are signs that this is about to change. Your marketing efforts could benefit from this trend.
For example, in 2017, Google Home users noticed that a universal ad for Disney's Beauty and The Beast automatically began playing shortly after their scheduled morning reminders. These are called flash briefings. At the time, these types of ads were rare and infrequent, but these days are growing in popularity.
In 2019, we see more refined, less invasive, examples of branded advertising on our smart speakers. A customer-friendly way to advertise on smart speakers is to present what's known as a "branded skill." For example, if you instruct Alexa to "Ask Patrón for a cocktail recipe," courtesy of the tequila maker, Alexa will respond with a varied selection of possibilities. As proof that this works, according to Digiday: Patrón gets more than 6,000 queries a month for its Alexa skill.
4. Optimizing for voice search
While most brands, including Amazon, may not be ready to explore smart speaker advertising just yet, they should, in the meantime, start to explore ways of optimizing their content for voice search.
As reported by Greg Sterling of Search Engine Land, 20% of all Google search queries now take place through voice search. Even more impressive is that 71% of all mobile users between the ages of 18 and 29 use the voice assistants on their smartphones, according to Thrive Analytics.
It probably makes sense for all businesses, not just big enterprises to start optimizing their content for voice search. Marketing experts have lots of advice to offer on how to do this, which is especially relevant in 2020 and beyond. There is a broad consensus that making content more conversational is the modern trend.
5. Chatbot Usage is Increasing as is Written Content
We all know that written content isn't going anywhere anytime soon. Marketing activity in the form of content marketing has had the most significant economic impact for three years running (according to Smart Insights). What is not well known is that written content in the form of conversational scripts is the primary input to chatbots, which are expected to see an increased usage trend in 2020 and beyond.
According to a study by Juniper Networks, AI-powered chatbots will grow in popularity and sophistication. As a result, by 2023, retailers can expect to cut costs by $439 billion each year and increase sales by $112 billion. These numbers will easily convince organizations, large and small, to continue investing in newer and more helpful chatbots.
We need to keep in mind that chatbots aren't only useful for big business. Any business with a website and visitor traffic can benefit from using a simple chatbot that answers the common visitor questions and helps convert visitors into warm leads. There are even free ways to build your own Facebook chatbot and, for websites built using WordPress, there are several chatbot plugins available.
6. Facebook and Instagram ads
Paid social media ads aren't new, but with businesses focusing more on Facebook and Instagram advertising than on other social media platforms, the trends are changing.
According to Quick Sprout, 31% of brands using Instagram are currently using ads. This number is up from 24% in 2017, 12% in 2016, and only 4% in 2015. The volume of advertisements on this platform has grown nearly eight times in only four years.
It shouldn't come as a surprise to see this upward trend in paid advertising. In line with this trend, ads on other social sites such as Twitter, Pinterest, and Snapchat are slowly becoming obsolete.
Since Facebook owns Instagram, businesses can manage ads on both of these social sites from the same interface. The format makes it much easier for companies to create ads targeting the right audience, based on their needs.
There's also the option to use lifetime value to create a Facebook audience that converts. While those same benefits aren't available when you place ads on other social sites, they might help you avoid being one of the 62% of small business owners who feel their paid Facebook advertisements aren't reaching their targets.
 You might not be running any paid ads at the moment. However, it might be an excellent strategy to at least try them in your marketing strategy as you approach 2020. Otherwise, your competition might steal your customers on social media which, for your business, is the best place to engage with them.
7. Voice search
Between smartphones and at-home products such as Amazon Echo or Google Home, search using voice is taking off. After all, voice recognition software is not a new technology. You've been using the speech to text function of your phone for years.
However, you've probably also been frustrated by how limited it seems. Because it seems limited, this could be one reason why marketers are skeptical that voice search will cause a significant shift to our marketing strategies.
Technology is continually evolving, and to prove this, Google Home has 95% word-level accuracy, which demonstrates that its Machine Learning is becoming more precise than ever.
Gordon Donnelly, writing for WordStream reports that the industry seems to be predicting 2020 as the year voice search truly explodes. The growth in this form of search will have a direct impact on business. As a result, you might decide to build voice search into your business strategy as you fine-tune your marketing efforts to allow for the trends.
Still unsure? Then take a look at these predictions:
Experts expect that by 2020, 50% of searches will be voice searches.

Last year, 13% of households in America owned a smart speaker. This number is expected to reach 55% by 2022.

As of January 2018, voice search was conducted 1 billion times a month. This number is expected to be notably higher in 2019 and beyond.
8. Mobile payments
Does your business currently accept mobile payments? If not, perhaps it's time to embrace the concept as it will be a growing trend in the future.
Take a look at the facts provided by PaymentsSource: "Mobile payments are here to stay, meaning consumers will leave their wallets and credit cards behind in favor of using their mobile devices to pay for everything from coffee to lawn care in increasing numbers."
For example, businesses such as Starbucks have a smartphone app that allows customers to purchase coffee in their storefronts by paying in advance with their mobile phones. Department store Target has an app which enables you to shop from anywhere and then schedule either an order pickup or drive up. When you arrive at the store, a store associate will hand over the items you have purchased.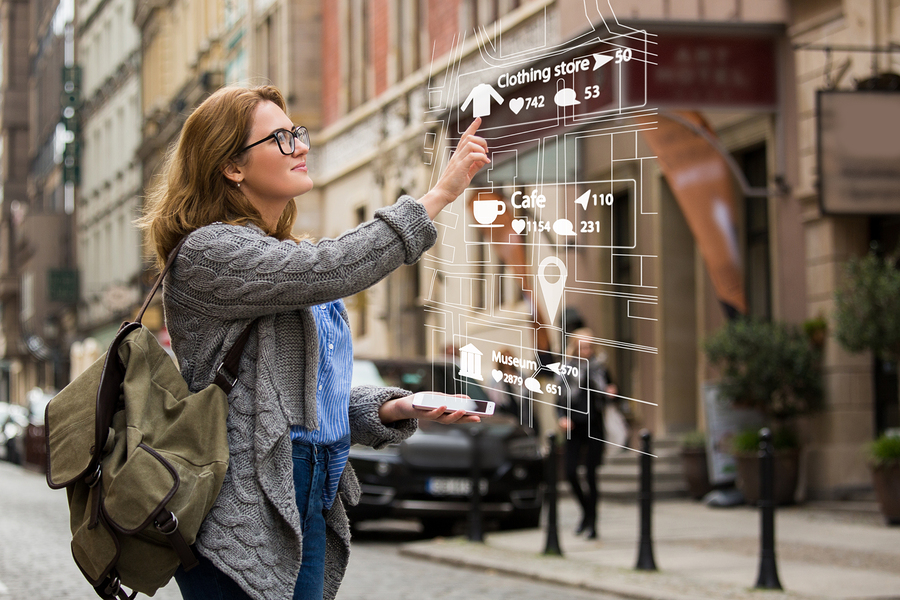 Another aspect of mobile pay comes from a variety of payment methods. Approximately 440 million users across the world used contactless pay options in 2018. Several banks and card issuers offer these as does Apple Pay, Google Pay, and Samsung Pay. This number of users is expected to increase to 760 million by 2020, a trend you from which your marketing can leverage.
Consumers are getting used to this technology and are embracing it. If you don't have the payment option they need, they may take their business elsewhere. Even if you don't have a storefront, your business should adapt and be prepared to accept these types of payments.
With 2020 now firmly in your sights as the new year for business approaches, perhaps your best year yet, it might be an idea to consider new and innovative ways to invest your marketing dollars.
It is guaranteed to be a year like no other, and your competitors are well aware of this too.