Generation Z, also known as the Post-Millenials, the iGeneration, or the Homeland Generation, has arrived. As a marketer, you are advised not to ignore this new and very different demographic where you'll need to apply a new set of approaches when marketing to Generation Z.
While Millennials have for quite some time been the target of business' attention, it's time to sit up and take note of the new kid on the block – or kids to be exact.
Born between the late 1990s and early 2000s, Gen Z follows the Millennials. Already, its oldest members are in college or just graduating. It's essential to keep this in mind because these young people are starting to enter the workforce either as employees or entrepreneurs.
Once they establish a steady income flow, Gen Z will have some impressive buying power. Extra money in their pockets means that marketing experts would be well advised to start giving this group increasing amounts of attention in their marketing efforts.
With the maturing of Gen Z, you have a significant opportunity for increased, sustainable growth for your company, regardless of the industry you serve.
This potential for growth prompted Quick Sprout (founded by Neil Patel of SEO fame) in its "Top 9 marketing trends for 2019" to highlight the need to shift marketing focus towards Gen Z.
By following the following seven little-known facts outlined below, you'll be better equipped to craft a marketing plan that will engage Generation Z consumers.
1. Mobile Immersed
Generation Zers have used the Internet from a very young age. As a result, this generation, known as true "digital natives," is probably more tech-savvy and comfortable with social media than any other.
Members of this generation may never have used a landline, let alone heard a dial-tone or busy signal. A 2018 State of Gen Z Study found that of the 1,000 members (ages 13 to 22) interviewed, 95% had a smartphone. Over half of these used their phones for five or more hours per day.
Gen Z's intensely mobile-first behavior is key to understanding this generation's perceptions and behaviors, both of which are becoming increasingly important for brands, employers, and communities.
Marketing Takeaway: Make sure you have an active marketing presence on their preferred mobile platforms when marketing to Generation Z.
2. Social Media Dependent
Gen Zers tend to be very selective about the social media platforms they use for specific interactions and outcomes.
Different types of communication and information goals require different social media platforms. For instance, Gen Zers use Instagram to connect with friends, follow brands, post selfies, videos, and cat pictures.
Snapchat is the platform used for much of the same, and Facebook is used to create and check events, as well as interact with like-minded groups.
The abovementioned 2018 study by the Center for Generational Kinetics also found that Gen Z trusts YouTube ads more than any other type of advertising, including radio, print, and TV.
Micro-influencers, especially those on YouTube and with a social media following ranging from a few thousand to 100,000, carry more influence over Gen Zers than traditional celebrities.
When it comes to social media, we do need to keep in mind that male and female Gen Zers use the various social media platforms at significantly different rates. Gender preferences are particularly significant for brands who are actively marketing to this generation.
Marketing Takeaway: Promote your business across the Gen Z-preferred social networks of Instagram, Snapchat, and YouTube. Be aware that the response to your marketing message might depend on the gender of your target audience.
3. Money Smart
As Gen Zers begin to enter the workforce or start college, there is evidence that this generation is already learning from those that came before it. This generation is taking a more pragmatic approach to money. Being aware of this may provide new opportunities for companies offering financial services to this emerging population.
Marketing Takeaway: Gen Z is perhaps more money-smart than earlier generations. Your marketing to Generation Z message will receive more attention if it helps this population to be frugal and save money.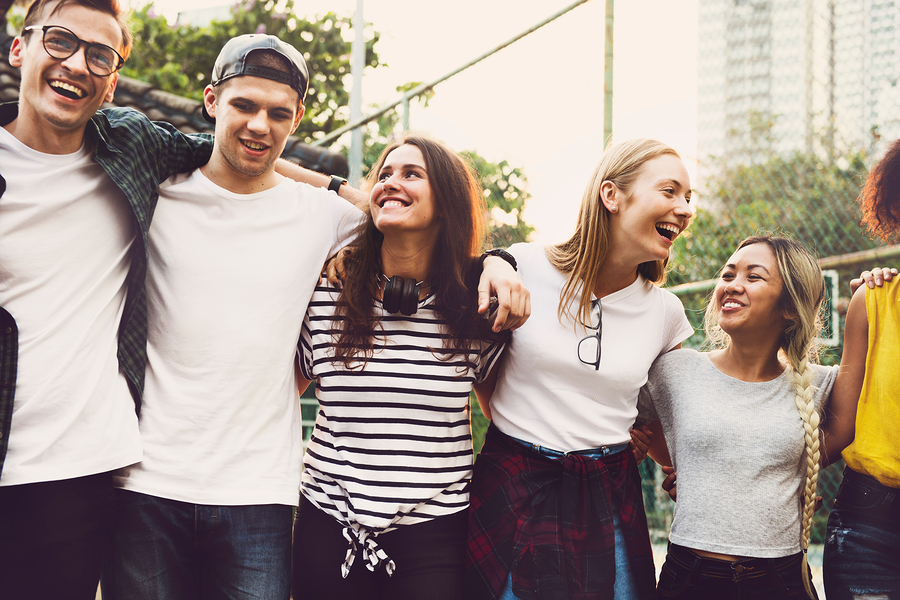 4. Starting (Or Skipping) College
There is much debate on whether Gen Z will attend college or take a different path compared to previous generations. With Gen Z being more financially savvy, those who do enroll will be considered "Generation Smart" when it comes to college.
While many do signup, there is the belief that many from this generation may skip college altogether. The news media is paying much attention to the "Gig Economy," and this may become a factor in the way Gen Z views employment and the education it might need to enter the workforce. Your marketing plan will need to take this into account.
Marketing Takeaway: Your marketing message will need to take into account a mix of Gen Zers: those who have chosen to enter traditional employment versus those who would instead be entrepreneurs.
5. Shopping Smart and Online
With 61 million Gen Zers entering the workforce, the research study from above reports that 68% of Gen Z read at least three product reviews before making a first-time purchase with their own money.
Even more surprising: 16% of Gen Zers read nine or more product reviews before making a first-time purchase with their own money.
Two years that have passed since that study was released and these numbers are probably no longer accurate. According to the same source, "What worked five years ago can completely fail with Millennials or Gen Z today," and this applies to your marketing strategy as well.
While older generations are busy managing careers and families (not to mention aging parents), Gen Z shoppers have both time and disposable income. Moreover, they are seeking unique, engaging retail experiences wherever they chose to shop.
Stores, whether they are physical locations or online, have to create something that makes them a highly desired shopping destination. It has to be an immersive experience for the Gen Zer to be comfortable.
While Amazon may have been slow in reaching out to Gen Z, through its Prime Day Concert, it appears to be changing this by encouraging consumers to become part of its "ecosystem." Having the term, "customer-centric" in its mission statement, Amazon is sending a clear message that should appeal to Gen Z.
When Gen Zers shop online, they want the opportunity to shop through social media platforms when they go online. The product experience exposed through social media where companies are favoring advertising on Facebook, Snapchat, and Instagram more than other platforms is significant.
A strong social media presence is vital for brands wanting to attract Gen Zers as customers, primarily through apps such as Instagram. The same applies to companies hoping to attract new employees.
Marketing Takeaway: While your website needs to appeal to Gen Z, make sure your presence within mobile apps is equally impressive and immersive.
6. In-App Shopping
Instagram has announced that users of the photo-sharing app will, for the first time, be able to start making purchases of some products directly within the app.
Gen Zers will be excited to learn about this platform's multi-year flirtation with becoming a real player in online shopping. Big-name retailers like Nike and others are participating in the early stages of this program.
Regarding the in-app purchase experience, many consumer brands are turning to chatbots to shorten the time between this generation's "wants" and "haves."
Social platforms are making this more manageable with these chatbots that can provide personalized messaging and immediate responses to questions.
In time, we should see chatbots implemented on platforms loved by Gen Zers such as Instagram and this presents additional marketing opportunities for your brand.
Marketing Takeaway: Prepare to keep your marketing to Generation Z to stay mainly within a relatively small number of mobile apps on their smartphones.
7. Implications for SEO
Companies hoping to attract Gen Zers to their websites need to understand that Google is turning everything upside down and prioritizing the mobile versions of websites. The term for this is "mobile-first index."
Marketing Takeaway: Search Engine Optimization (SEO) is something of a moving target. As more users rely on their smartphones for searching for information and products, your marketing content must always be up to date with Google's latest SEO trends.
The Bottom Line
For employers, marketers, and leaders, recognizing and understanding Generation Z is crucial. It's the fastest-growing generation of both entry-level employees and consumers, the oldest of which are already in their mid-twenties.
When marketing to Generation Z, your message needs to be online, in the same places they are.
Since this is not the same place where everyone else hangs out, the marketing tactics used to reach Millennials, and older generations may not work on this group. You will need a new, fresh approach that is very different from what worked in the past.