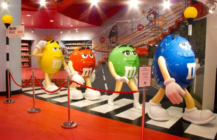 M&M'S has announced in a teaser ad that its candy will be rebranded as Ma&Ya's and given a new look inspired by its new spokesperson. Or so the ad would have people believe.
In December last year, M&M's announced that it will be starting this year with its return to Super Bowl. Mars, M&M's parent company is known for ad campaigns during the Big Game which offers one of the world's largest consumer stages. 
Last week the company raised controversy after announcing that it would take an indefinite pause from using its candy-coated characters. In a tweet, M&M's explained that instead of the 'woke' mascots, it will now tap Maya Rudolph as its spokesperson with America's blessings.
The M&M's teaser ad is part of the Super Bowl ad plot
This is the latest Super Bowl stunt by Mars, and it has received widespread attention on social media and the general media. According to M&M'S, this is just a part of the plot for its Super Bowl LVII ad on February 12.
The campaign appears to be a response to the brand's last year's inclusivity-focused idea to refresh its iconic characters. The effort was met with unexpected controversy, with people on social media posting memes and Tucker Carlson, a Fox News commentator,  mockingly referring to the brand as "woke M&M's.
On Monday, the brand stated that the changes to its spokescandies were "polarizing". And that's why it decided to introduce "a spokesperson America can agree on" in the form of Emmy-winning comedian Rudolph.
M&M's teaser ad seems to have sparked a culture war
Nonetheless, Monday's Super Bowl teaser announcement seems to have fueled the culture wars, with the media, bringing back the negative attention M&M'S received in 2022. People are now speculating that the detailed show is simply a ploy to increase engagement and get more press coverage ahead of Super Bowl LVII.
Some like Sean Morrow, a political journalist, have questioned Mars' business practices.  Morrow tweeted an imitation of the brand's Monday announcement tweet, which highlighted a 2021 lawsuit accusing Mars, of child labor.
Other brands, such as A&W Restaurants, have also made fun of the ongoing drama in their own unique ways. 
M&M's is making lemonade from the lemons it has
Some experts believe the brand is exploiting the old adage that any press is good press. It's all about promotion as long as the brand is gaining attention. M&M's is gaining attention as a result of its new label, 'woke.' 
"They got lemons, so they made lemonade," says Robert Passikoff, founder and president of market research firm Brand Keys. Passikoff suggests that to appeal to a wider range of consumers, the brand could have picked a more moderate spokesperson.