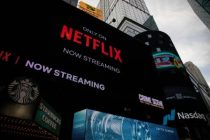 Netflix's search for an advertising partner has come to an end. The streaming giant has selected Microsoft as its ad tech and sales partner in its plans to explore a cheaper subscription option supported by ads starting in September this year.
Three months ago, Netflix announced that it was considering going into advertising and was looking for a partner. The streaming giant was looking into expanding its subscription plans by adding an ad-supported tier in a bold move to limit competition. 
"Those who have followed Netflix know that I have been against the complexity of advertising and a big fan of the simplicity of subscription," Reed Hastings, Netflix's co-CEO said. "But as much as I am a fan of that, I am a bigger fan of consumer choice, and allowing consumers who would like to have a lower price and are advertising-tolerant to get what they want makes a lot of sense." He added. 
Netflix believes that Microsoft is willing and devoted to supporting the partnership by innovating the technology and sales aspects of the plan. Microsoft, on its end, has committed to offering the flexibility and privacy protection that Netflix needs.
Why Netflix Chose Microsoft for the Ad-supported Subscription
Netflix had Google, Roku, Comcast, and The Trade Desk on its prospects and was ready for pitches from any company with a steaming video ad tech and sales infrastructure.
But getting the right ad tech partner has not been easy for Netflix. 
How did Netflix settle on Microsoft in the end, and why?
Microsoft has no streaming service, and Netflix believes that will help limit its competition. The other ad tech companies that Netflix was considering already have streaming platforms; Google owns YouTube, while Comcast has Peacock.  
The second reason is that Microsoft just acquired Xandr, a digital ad business, from AT&T. This gave Microsoft digital ad capabilities that Netflix requires in an ad tech partner.
Why Netflix Ad-supported Subscription Makes a lot of Sense
Netflix has long been opposed to the idea of promotions and ads on its platform. After enjoying a long reign as the king of streaming, Netflix lost 200,000 subscribers in the first quarter of this year and predicted a further loss of 2 million in the second quarter.  The streaming giant has finally had to bow to the advertising gods.
HBO Max and Hulu are already earning good returns from cheaper ad-based plans and Netflix can too. Elsewhere, Disney+ ad-supported subscription plans are also underway. 
As expected, Microsoft is thrilled to be named Netflix's first ad and sales partner. The tech company believes that marketers who will grab this opportunity can now reach an audience that they have not been able to access through ads in the past. They will now have access to a larger share of potential clients currently consuming Netflix services, while Netflix will benefit from offering a wider range of choices to its customers.
Update in the Netflix Camp
Netflix hoped to gain more subscribers this year and consequent colossal return on investment. But it lost up to 200 000 subscribers between January and March. According to Netflix's earnings report released on July 19, 2022, a million subscribers also quit between April and July. 
The impact has not surprised the streamer since it predicted a 2 million subscriber loss. 
But rival streamers have since seized this chance to attract subscribers who are running away from Netflix. The loss of subscribers and the consequent drop in returns have seen Netflix lay off some employees and crack down on password sharing. 
In a letter to shareholders, Netflix wrote, "our challenge and opportunity are to accelerate our revenue and membership growth by continuing to improve our product, content, and marketing as we've done for the last 25 years, and to monetize our big audience better."  
The Ad-supported Subscription Plan Expected to Launch Soon
The plan is currently under testing but should kick off in early 2023.
 It'll launch in select markets first before stretching to the global market. "While it will take some time to grow our member base for the ad tier and the associated ad revenues, over the long run, we think advertising can enable substantial incremental membership (through lower prices) and profit growth (through ad revenues),"  Netflix announced on July 19, 2022. 
Apart From Ad-supported Subscriptions, Netflix's Future is Quality
Netflix has always strived to produce incredible, authentic, and quality programming. The Stranger Things season 4 release helped Netflix get their members talking. The season got the attention of many enthusiasts logging in to the premiere weekend. Netflix netted 1.3 billion viewing hours after a month from the date of release. 
Although the transitional process is not yet clear, Netflix is focussing on its ultimate goal; to offer its streamers more choices and a premium brand experience for advertisers.
Final Thoughts
The move toward advertising seems inevitable for the streaming industry, and Netflix has now come to terms with it after many years.
True to it, the streaming giant has now partnered with Microsoft as its ad tech partner to establish a cheaper ad-supported subscription plan and limit competition from rival streamers. All this in an effort to retain quality and its vast number of global subscribers.