Imagine spending quality time watching a movie on your smart device with a loved one who happens to be miles away?
Is this possible?
Well, that is becoming a reality thanks to the new functionality that links Messenger to Instagram.
Because of human social nature, people need to communicate with friends and family. Social media platforms have made this possible and hassle-free. The need for fast, reliable, and fun messaging has witnessed the launch of a new feature that allows cross-app communication between Messenger and Instagram.
Chat with Your Facebook Friends on Instagram
While social platforms bring fun when interacting with others, more people are seeking some privacy. That's why Facebook is looking to link all its messaging apps. So, WhatsApp will soon be joining the bandwagon.
Once all the three messaging apps are finally linked, you will have no reason to leave Facebook. Very strategic, right?
Out of the 3.6B people using social media today, 1.3B are on messenger probably because one does not require to have a Facebook account to use it.
What is cross-app communication?
This new functionality has allowed Instagram to borrow some features already applied to the messenger. So regardless of which app you use, the cross-app feature ensures you have the best user experience connecting with people on other apps without having to switch.
For instance, I bet you use more than one app to reach different people. Sometimes it can be tricky remembering which app you used to message which person. But it shouldn't be something you have to figure out first, and this new Instagram feature takes away that pain.
New Features on Instagram's Newest Version
Updating your Instagram app to the latest version will allow you to:
Attach a specific response to a particular message when chatting by swiping the same way you do it on messenger to ensure a good conversation flow.
Forward to share interesting stuff with friends.
Enjoy the uniqueness that comes with different colors and themes.
Express yourself in the best way without words by using customized emojis.
Access animated effects for better expression of emotions and visual flair on messages.
Here is a list of the ten features that come with this new functionality:
Watch Together will give you that quality time you have been yearning for with your loved ones through activities such as enjoying videos and movies together during video calls.
Vanish Mode will allow you to keep your secret chats a secret. Messages that you specify will disappear once seen or once you finish chatting.
Communicate Across Apps is a feature that allows you to communicate with friends across different apps.
Custom Emoji Reactions will give you access to emojis that you can use to show a reaction to a message, unlike when using the previous versions of Instagram.
Chat Colors will allow you to apply the colors you want
Selfie Stickers allows you to use your photos to mimic emojis and use them to react to your messages.
Forwarding lets up to five of your friends or groups receive content you come across and want to share with them.
Message Controls gives you the freedom to choose where you want messages from friends to land and keep away those you don't want to contact you at all.
Replies feature will make your conversion flow better since you can respond to a specific chat message with a simple swipe.
Animated Message Effects allows you to apply your creativity and make chatting fun using animated effects.
How to Activate cross-messaging Feature on Instagram
If you have not updated your Instagram app, you will likely see when you open the app.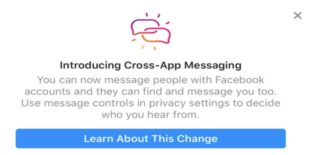 [Screenshot via Instagram]
On tapping on Learn About This Change, a window will pop up to introduce the new cross-app functionality. There are also some guidelines and control options with an option to either Dismiss or Continue to Update.
To proceed, tap on the Continue to Update button. That will open a new page telling you exactly what the new feature is all about; Update to Chat With Facebook Accounts. A few of the fun aspects of this new feature are listed, alongside access to a list of more fun features. At the bottom of this page, you have two options; Update and Not Now. Below that, you can access information about your privacy.
Note there is also a caution that once you update, you will no longer have access to the old version. If you are going to proceed with updating, therefore, be sure it is what you want.
Tap on the update, and voila! You can now start enjoying the newest features on Facebook and Instagram. At this point, you will see a Messenger icon on your Instagram app at the top right where the Direct Message Icon was before the update.
If you need to start chatting, tap on the Messenger icon to access the chat button that resembles a notepad and a pen. Tap on it to access a list of your friends from both Instagram and Facebook. You can now choose who to talk to — easy.