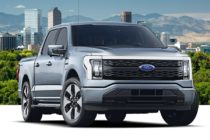 Ford Motor sales for the U.S. in the past month were down roughly 4% from the previous month but up significantly compared to the same period last year. That's according to the company's announcement on Friday.
Ford's popular F-Series pickup truck sales through August were down 10.7% from the same time last year, but they still met analyst estimates. For the second consecutive month, according to the firm, the best-selling brand in America was Ford.
Ford Motor said on Friday that even though its U.S. sales last month were down around 4% from the month before, they were up significantly from a year earlier as the company and the auto industry continue to struggle with substantial supply chain issues.
For the month of August, the Detroit-based manufacturer reported selling 158,088 brand-new cars in the US. This represents a 27.3% improvement from August 2021, when the scarcity of semiconductor chips severely hampered the company's production and sales. Last month, sales decreased by 3.6% compared to July, including an 8% decline in F-Series pickup trucks.
Ford Motor Sales according to Analyst predictions and actual sales
Those sales were in line with analyst predictions. For a second month running, the company says that the best-selling brand in America is its Ford brand.
F-Series Pickups sales
Sales of Ford's profitable F-Series pickups were up 1.7% for the month of August 2021 but off 10.7% for the first eight months of the year compared with the same period last year. The company sold 6,842 models of its all-electric F-150 Lightning pickup as of Aug. 31, including 2,373 vehicles last month.
With the F-150 Lightning, the F-Series was America's best-selling, hybrid, and electric pickup in August. In July, Ford's whole electric vehicle lineup doubled in size while gaining market share from rivals at a rate of more than 60%, according to a press release from the company's vice president of sales, distribution, and trucks, Andrew Frick.
Ford EV Sales
Through the month of August, Ford sold more than 36,500 electric vehicles. This includes sales of around 5,900 vehicles in August, which were up more than 300% from a year ago but down 23% from the month before.
Sales of Ford Vehicles
Through August, sales of all Ford vehicles—including those under its upscale Lincoln brand—totaled more than 1.2 million units, a 0.2% decrease from last year's period. The carmaker had around 259,000 automobiles in its U.S. vehicle inventory at the end of the previous month, up from 254,000 at the end of July.
According to J.D. Power and LMC Automotive, total U.S. new car sales in August exceeded 980,000 units. This would be 2.6% less than August 2021, the first month that a persistent chip shortage substantially affected the auto industry's vehicle stocks.
Seasonally Adjusted Annualized Rate
According to RBC Capital Markets, the seasonally adjusted annualized rate (SAAR) for new automobiles was 13.4 million, which was in line with July's 13.5 million and somewhat over its projection of 13.2 million. Analysts and investors pay special attention to the SAAR because it helps account for variances in the data.