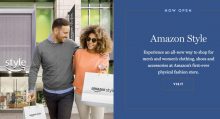 Amazon has opened a new physical clothing store in Glendale, California, named Amazon Style. The store is Amazon's first-ever brick-and-mortar clothing shop and a gamechanger to the clothing industry as we know it. The store relies heavily on technology to sell its products using QR codes and touchscreens as user interfaces.  
Amazon Style has an android app that clients interact with to enquire about the details of the items they are interested in by scanning the item's QR code. This move marks a phenomenal e-commerce upgrade compared to other physical clothing stores. The store has a variety of shoes, accessories, and apparel; men's, women's, and children's from different brands.
The Use of Technology in Amazon's New Physical Clothing Store
Amazon Style heavily relies on modern and relevant technology to harness the power of a strategic and customer-oriented approach to the competitive business. Using the app, a shopper can see available items, including details such as sizes and colors available. They can tap on a button on the app to send the ones they like to a fitting room. They can also send them to the pick-up counter without fitting.
The store employees will receive the order, pick the ordered items from the warehouse alongside those suggested by the AI-powered algorithm and send them to a fitting room. Once a vacant fitting room is available, the shopper will get an alert on their smart device. The room will be reserved for them for 10 minutes.
The client will use the app to open the door to the fitting room. While in the fitting room, they can interact with a touchscreen to make decisions on their taste of color, search for their favorites, and rate the items. A client can request specific sizes, brands, and styles on the touchscreens, which the Amazon Style employees will deliver to the respective fitting rooms. 
How Amazon Is Using Technology To Optimize Its Customer Service
As clients surf and shop at Amazon's new physical clothing store, there are QR codes that carry item details. The details include item size, texture, color, price, ratings, and other relevant information. 
Unlike traditional physical clothing stores, Amazon enables shoppers to select clothing items from various brands without wading through racks to find their perfect fit.
The fitting room becomes a personalized space once a customer walks in. The shopper can continue shopping without leaving the room using the touchscreen provided. 
A client can also order clothing items on the popular Amazon.com site and await efficient delivery to a specific store, try them on, and decide whether to return or take them. 
Amazon Style embraced these technologies to optimize its customer service and relationship. 
Clients in the clothing industry hassle trying to find their favorite clothing item. The retail giant aims to provide its shoppers with a seamless shopping experience when shopping for fashion items. 
Amazon Style's Operating Hours
Amazon reports that the working hours vary from weekdays to weekends. It's not a 24/7 operation like the original website. Amazon's new physical clothing store in California opens from 10 a.m to 9 p.m from Monday to Thursday. 
On Friday and Saturday, they're operational from 10 a.m to 10 p.m. And 10 a.m. to 9 p.m. on Sundays. Note that every client can pay for the items at the store checkout through their Amazon accounts. 
The Pricing Scope of Amazon's New Physical Clothing Store
The managing director, Simoina Vasen, had earlier indicated in a CNBC interview that a client could find everything ranging from the $10 jeans to the $400 timeless pieces. Amazon Style aims at meeting every client's budget and price point. 
Bottomline
Amazon Style, located in Glendale near Los Angeles, is one of its kind. It's Amazon's first-ever brick-and-mortar store with authentic clothing. The store is packed to the grill with technology allowing shoppers to make orders in the comfort of the in-store fitting rooms using touchscreens and QR codes. QR codes have all the details that clients would like to know. 
It's unclear whether the store will implement the cashier-less "Just Walk Out" technology like Amazon Go, but it will use the Amazon One palm recognition service for checkout.
The store is open throughout the week at designated hours and has a range of clothing, from relatively cheap to considerably expensive ones.