Paper cups have become famous for many businesses and consumers due to their convenience, affordability, and sustainability. However, the waste generated by paper cups in 2021 is still a primary environmental concern.
The use of paper cups has increased significantly in recent years as more people opt for disposable items instead of reusable ones. This has led to an increase in waste generated from paper cups. In 2021 alone, it is estimated that over 6 billion paper cups were used worldwide, resulting in an estimated 1.5 million tons of waste.
Most of this waste comes from single-use paper cups that are not recyclable or compostable. These cups are typically made with plastic-coated paper, making them difficult to recycle or break down naturally. As a result, they end up in landfills, where they can take hundreds of years to decompose.
Fortunately, there are steps being taken to reduce the amount of waste generated by paper cups in 2021. For example, many companies are now offering more sustainable options, such as compostable and recyclable paper cups, which can be easily disposed of without harming the environment. Additionally, some cities have implemented laws that require businesses to provide customers with reusable options instead of single-use items like paper cups.
Overall, reducing the amount of waste generated by paper cups in 2021 is essential if we want to protect our planet for future generations. By opting for more sustainable alternatives and encouraging businesses to do the same, we can help reduce our environmental footprint and create a healthier world for everyone.
Alaska Airlines eliminates inflight plastic cups
Alaska Airlines has transitioned to paper cups for its in-flight beverages, replacing over 55 million plastic cups annually. This makes the airline the first in the United States to eliminate plastic cups. Combined with its Boxed Water partnership, it eliminates 2.2 million pounds of plastic waste every year, the equivalent of 24 Boeing 737s. The inflight beverages are now served in Forest Stewardship Council (FSC) certified paper cups or reusable glassware in most First Class services. In 2018, the airline removed plastic straws and stirred sticks from inflight service, becoming the first airline to do so. The following year, it eliminated plastic water bottles by replacing them with Boxed Water, made from renewable FSC-certified paper, 92% of which is plant-based.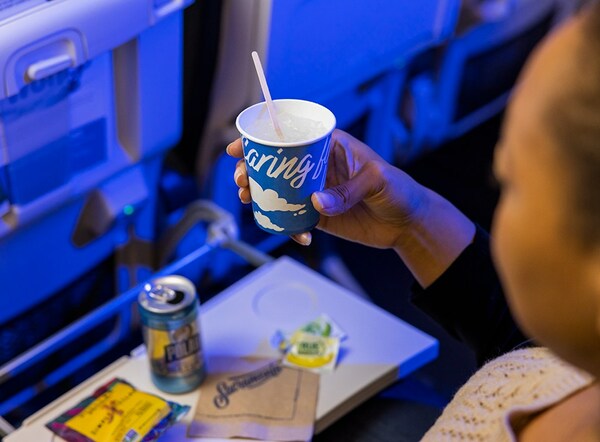 Eliminating plastic is a team effort that requires collaboration with suppliers and the inflight team to develop new products and practices. Single-use plastics increase the use of fossil fuels, generate tons of waste, and pollute waterways and natural spaces. The vast majority of the 300 million tons of plastic produced each year globally go unrecycled and end up in landfills or the environment. Alaska Airlines encourages its guests to reduce waste by bringing their own water bottles and to recycle. The airline continues to pursue product innovations and supply chain advancements as part of its broader sustainability efforts and has established climate goals for carbon, waste, and water. The airline aims to achieve zero carbon emissions by 2040 and keep the places it flies to and from beautiful and viable for future generations.